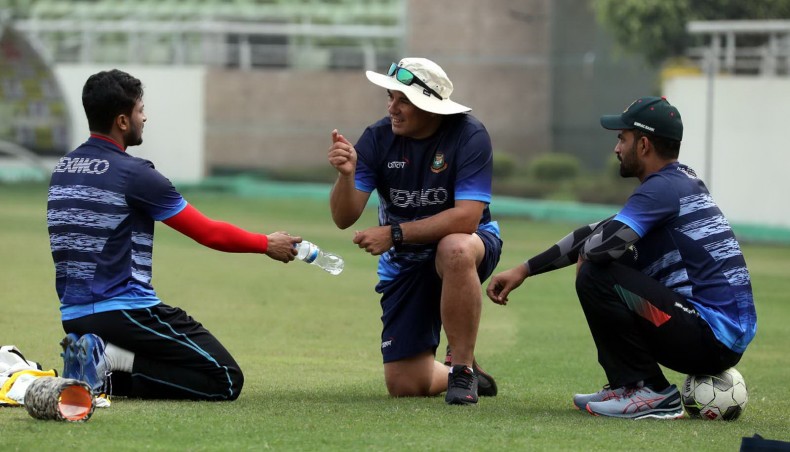 Bangladesh coach Russell Domingo on Monday hinted that all-rounder Shakib Al Hasan might not get a chance to bat at his preferred one-down position in the forthcoming three-match one-day international series against West Indies.
Shakib will make his comeback to international cricket with the series after serving out his one-year ban for his failure to report multiple corrupt approaches.
Before his suspension, Shakib made the one-down position of his own, scoring 606 runs in eight matches in the World Cup 2019 in UK.
However, with the emergence of Najmul Hossain as the new contender for one-down position, Domingo felt Shakib should bat a further down.
'Shakib hasn't played international cricket in a while so batting at No 4 would give him the breathing space coming back into the side,' Domingo told reporters at a press conference held virtually in Dhaka.
'We know he is a world-class player. This batting line-up is not set in stone. There's a long way to go for the World Cup. We need to look at various options before we settle on a batting line-up,' he said.
'I just feel that there's a good young player in Shanto [Najmul], who is in really good touch at the moment.
'He played in the last series against Zimbabwe and we need to make sure that we develop some young batters. In the sub-continent the top three is the best place to develop young batsmen,' added the South African coach.
The series starts on Wednesday with the first match in Dhaka.
The second and third ODI of the series will be held respectively on January 22 and 25 in Dhaka and Chattogram.