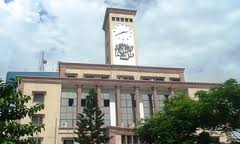 Some 1.75 crore people could comfortably be accommodated in the capital by effectively implementing the Detailed Area Plan (DAP) without filling wetlands and low-lying areas as it envisages, according to urban planners.
"As per DAP, about 1.75 crore people could be accommodated in 1,528 square kilometers of the capital. It's possible to develop housing projects following DAP," eminent urban planner Prof Jamilur Reza Chowdhury told a discussion in the city on Saturday.
According to the 10th annual edition of Demographia World Urban Areas, Dhaka city's current population is 1.48 crore, while the urban planners put at 1.5 crore.
Association of Buet Alumni (Abueta), Institute of Engineers Bangladesh (IEB), Institute of Architects Bangladesh (IAB), Bangladesh Institute of Planners (BIP), Bangladesh Paribesh Andolon (Bapa) and Bangladesh Environmental Lawyers' Association (Bela) jointly organised the discussion, 'Filling up wetlands, Urbanisation and Good Governance', at Cirdap Auditorium.
Prof Jamilur Reza said the private sector developers are rampantly filling wetlands and low-lying areas while developing their commercial plots. "The government should take a decision right now so that nobody can sell plots from now…it's needed to protect the city's wetlands."
Recalling his involvement in DAP's formulation, he said the DAP review committee recommended the government not to go for the Jhilmil Housing Project Phase-2.
About the unchecked and unplanned urbanisation, Jamilur Reza said if the trend of land and wetland grabbing to undertake new housing projects continues, it will be quite impossible to save Dhaka city from destruction. "So, it's time to resist the land grabbers."
Former IAB president architect Mobasher Hossain said the land grabbers have already captured the Dhanmondi playground and one day will grab the residence of Bangabandhu Sheikh Mujibur Rahman — Bangabandhu Bhaban –and Sudha Sadan.
He said the government must take steps to resist the land grabbers and people will extend their support to it if it comes up with such a plan.
Abdullah Abu Sayeed said if 1.75 crore people could be accommodated in the capital under DAP, why new housing projects should be taken filling wetlands and low-lying areas.
He said no hosing protect shall be allowed on wetlands and low-lying and flood-prone areas of the country.
Speaking as the chief guest, Housing and Public Works Minister Engr Mosharraf Hossain said his ministry will not take any project which needs to fill wetlands.
About the demand by a quarter for reviewing DAP, he said nobody will be allowed to fill wetlands.
The Housing Minister suggested building satellite towns in the country, aiming to reduce pressure on Dhaka city.
Environment and Forests Minister Anwar Hossain Manju, former caretaker government adviser Dr Hossain Zillur Rahman, Nijera Kori coordinator Khushi Kabir, Bapa joint secretary Iqbal Habib, Editor-in-Chief & CEO of Boishakhi TV Monjurul Ahsan Bulbul and Bela chief executive Syeda Rizwana Hasan, among others, spoke at the discussion.
Source: UNBConnect