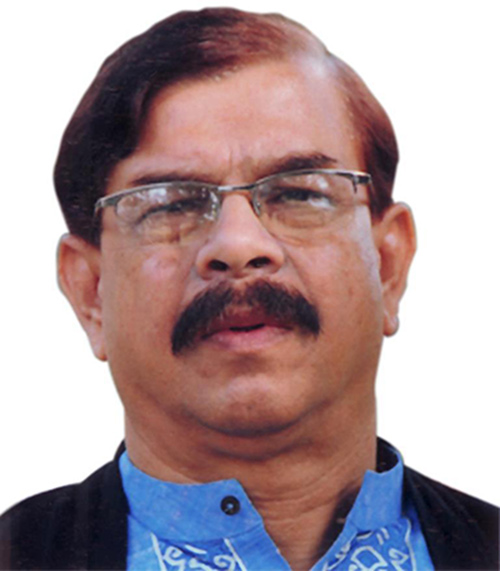 A group of plainclothes men, who introduced themselves as detectives, picked up Nagorik Oikya convener Mahmudur Rahman Manna at his relative's house at Banani in the capital, Dhaka, in the early hours of today.
Detective Branch of police however denied detaining Manna, whose two audio clips created quite a stir across the country.
"Around 3:00am, a group of people knocked at the door. They said they are from the Detective Branch," Shahnama Sharmin, Manna's niece, told reporters when they visited her house on Road 17/A in Block-E from where Manna was picked up.
While leaving the place around 3:30am, the plainclothesmen told the insiders that they would take Manna to their office, she added.
But hours later, the detectives denied picking up Manna. "We didn't detain him," DB Joint Commissioner Monirul Islam said at a press briefing.
The detectives are now investigating Manna's phone conversations with BNP leader Sadeque Hossain Khoka and an unnamed person that had become public Sunday night, the DB official said.
"If we find the conversation genuine and provocative, we will arrest him following the legal procedures," Islam said.
The arrest came hours a day after Manna told a private television channel that he might be arrested.
"We will try to find out his whereabouts," Manna's wife Meher Nigar told newsmen today.
The family would take legal steps, she said.
Meanwhile, Manna's family filed a general diary with Banani Police Station hours after detectives denied picking him up.
Begum Sultana, a sister-in-law of Manna, stated in the GD that though a group of plainclothes men, identifying themselves as detectives, picked up Manna from a Banani residence but the Detective Branch of Police denied it. Manna is missing and his mobile phone is switched off since then, Sub-Inspector Farida Pervin of Banani police station quoted from the GD.
NAGORIK OIKYA'S PRESS BRIEFING
Nagorik Oikya leaders at a press briefing on Jatiya Press Club premise today demanded a stop to "propaganda" against Manna and also sought an explanation from the government over his "arrest".
"He was scheduled to hold a press briefing on the phone conversations this morning but he was given no time to do so," alleged Iftekhar Ahmed Babu, a central committee member.
Iftekhar said talks can be held with anyone for the sake of politics, but leaking one's privacy is a bad note of breaching constitutional rights.
Responding to reporters' queries, Iftekhar informed Mannan's wife lodged general diaries with Banani Police Station. "We will now observe the situation," he said.
"We will announce our next course of action later on," he added.
MANNA'S NAME ERASED FROM DUCSU BOARD
A section of Bangladesh Chhatra League, pro-Awami League student wing, has erased the name of Manna from the board containing the names of Ducsu leaders following his controversial conversations on waging movement at DU campus.
The Chhatra League men, led by its central unit Vice-President Joydev Nondee, erased the name from the board around 1:20pm, Joydev told The Daily Star Online.
They also burnt poster containing Manna's photo on the campus, he said.
PHONE CONVERSATION
Of the two conversations, one was with BNP leader and former Dhaka mayor Sadeque Hossain Khoka, now in the US for treatment.
They talked on issues, including the current political situation, ongoing blockades, civil society initiatives and Nagorik Oikya's plans and activities.
Manna, a two-time VP of Dhaka University Central Students Union (Ducsu) in his youth, advised Khoka to capture some DU dormitories to put pressure on the government.
The other call was to an unnamed person purportedly staying in Australia. Manna was asked by the man whether he would like to talk with army officials for a "changeover in the country".
For both the calls, he used Viber, an application for free calls and messages. It could not be known how and by whom the conversations got leaked.
Source: The Daily Star