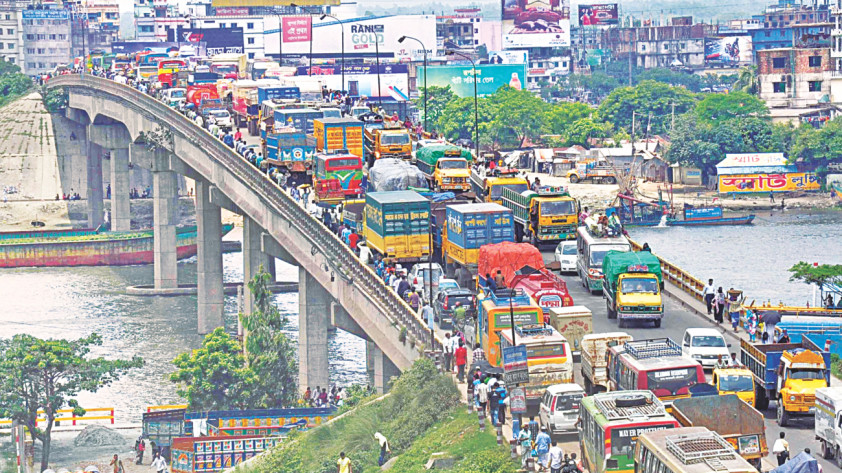 People continued to suffer for the third consecutive day yesterday as auto-rickshaw workers and owners demonstrated against the government ban on three-wheelers and slow-moving vehicles on highways.
The protesters blockaded highways, causing long tailbacks.
On July 27, the road transport and bridges ministry issued an order banning three-wheelers like auto-rickshaws and other slow-moving and unfit vehicles on highways from August 1.
Protestors remain vehement in carrying out demonstrations until their demand for withdrawal of the ban is met.
Deflated tyres of vehicles as they were allegedly punctured by protesters. The photo was taken yesterday. Photo: Amran Hossian
"We demand separate lanes on highways for auto-rickshaws and other three-wheelers. Ignoring our demand, the government imposed the ban," said Golam Faruk, convenor of Bangladesh Auto-Rickshaw Auto-Tempo Shilpa Bachao Sangram Parishad that is conducting the protest.
Road Transport and Highways Division Secretary MAN Siddique, however, said the protest was irrational.
The country has around 2.5 lakh kilometers regional roads and over 3.5 thousand kilometres national highways.
"Operation of these vehicles is banned on national highways only. They are allowed on other roads," Siddique told The Daily Star.
Such type of vehicles is the main reason behind accidents on highways and so "we have no alternative to banning them," he added.
Meanwhile, auto-rickshaw owners and workers clashed with police in different districts while demonstrating, report our correspondents.
In Narayanganj, at least five were injured during a clash between the police and protesters at Signboard point on Dhaka-Chittagong highway. It caused long tailbacks on the highway. Later, law enforcers dispersed the protesters, firing into the air.
In Chittagong, thousands of passengers have been suffering on different routes to seven southern upazilas since the ban took effect on Saturday, as auto-rickshaws were their main mode of transport.
Rita Sarkar, a first-year student of honours at Patiya Government College, who lives in Boalkhali upazila, travels in auto-rickshaws to and from her college.
As auto-rickshaws were banned, Rita had to change rickshaws three times to reach her college, which cost her Tk 150 on Sunday, whereas her usual auto-rickshaw ride would cost only Tk 10.
In Comilla, protesters blockaded the Pennai-Matlab road under Daudkandi upazila since early morning for hours.
Many had to walk long distances due to shortage of vehicles as auto-rickshaws remained off the highways in Daudkandi.
In Lalmonirhat, easy-bike owners and drivers staged demonstration and submitted a memorandum to the deputy commissioner.
"If the ban continues, many people like me will not earn and our family members will starve," said Sultan Hossain, an easy-bike driver in Lalmonirhat.
Protesters there threatened to launch tougher programmes in two days, if the ban is not withdrawn.
Passengers head for their destination on foot at Kanchpur on Dhaka-Chittagong highway yesterday after three-wheeler owners and drivers block the highway protesting a ban on three-wheelers. Photo: Amran Hossian
In Bogra, a committee of the owners of auto-rickshaws and locally made three wheelers like votvoti, Nosimon and Karimon formed a human chain at Shatmatha in the city demanding that the ban be lifted.
In Munshiganj, auto-rickshaw workers blockaded Kuchiamora and Nimtoli point under Sirajdikhan upazila on Dhaka-Mawa highway, halting vehicular movement for over an hour.
The protesters left the scene after the police reached there.
In Narsingdi, auto-rickshaw workers staged demonstrations at different points in the city and submitted a memorandum to the superintendent of police.
Source: The Daily Star