Bangladesh's Ambassador to US Mohammed Ziauddin has briefed US Congresswoman Grace Meng about government's steps to improve factory safety and labour rights after the Rana Plaza collapse last year.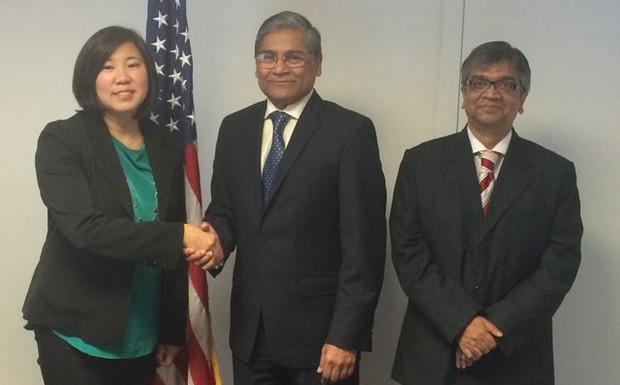 He said the government had taken concrete steps to ensure factory safety and workers rights during a courtesy call on Meng on Friday after the Congresswoman expressed her interest to visit Bangladesh, the country's New York consulate said in a media release.
The ambassador said the post-Rana Plaza measures covered a broad range of areas including legal and institutional reforms, administrative actions, special programmes, fire and building safety measures and following up and monitoring them.
The Congresswoman enquired about the visible impacts of the actions taken by the government after the tragedy.
The Ambassador mentioned how the "concrete actions" of the present government demonstrated improvements in occupational safety and workers' rights in Bangladesh.
While mentioning about the tremendous impact of the RMG industry which is transforming the entire society by empowering the women in
Bangladesh, the Ambassador sought the US support to help the industry move forward.
President Obama has suspended Bangladesh's GSP privilege last year and the next hearing to regain the facility is scheduled to be held in Dec.
Grace Meng who is also a member of the House Foreign Affairs Committee gave a patient hearing to the issues flagged by the Ambassador, the consulate office said.
She said that they are following the developments in Bangladesh with "lots of interest".
Meng expects "more interactive dialogue in the sector between the manufacturers and the workers".
Consul General of Bangladesh in New York Md Shameem Ahsan was also present during the meeting.
Source: bdnews24