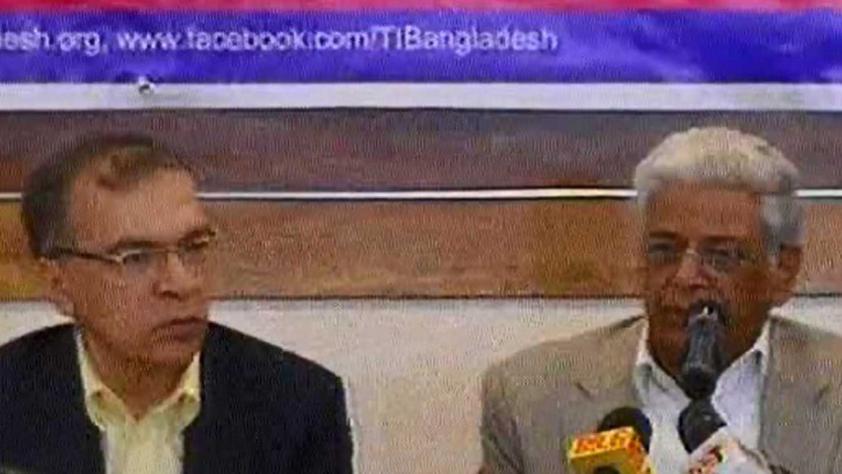 The recently held three city corporations' elections were not free, fair, and neutral, according to a TIB report.
It says the candidates had a tendency to violate electoral code of conduct. They also exceeded the limit of election expenditures as set by the election commission, the report adds.
The commission, too, had failed to play its due role in holding free, fair and credible elections, said the anti-corruption body.
Transparency International Bangladesh (TIB) released the study report on 'DSCC, DNCC and CCC elections 2015: Process Observation' in a press conference at its office on Monday. TIB programme manager Rezaul Karim presented the findings of the study.
The TIB report reveals that three mayoral candidates of Dhaka North spent additional Tk 20 lakh to 3.6 crore for campaigns though the EC allowed a candidate to spend TK 50 lakh. Three mayoral candidates of Dhaka South spent additional Tk 1.5 crore to 3.5 crore against the limit of Tk 30 lakh.
Three mayoral candidates of Chittagong spent additional Tk 6.47 crore against the permissible amount of Tk 30 lakh.
Almost 60 percent (58 percent) of candidates violated election rules by providing food and drinks during the campaigns, while 42 percent violated by conducting campaigns after the given timeframe.
The study says although the city election is a non-party affair, both the ruling Awami League and the BNP openly supported candidates, while the Awami League forced their 336 party men to pull out.
It found that the BNP did not provide polling agents in many polling centres despite having a peaceful environment and it boycotted polls without any discussion with BNP-backed supporters.
About the commission's role, the study says it has failed to play its due role in holding a free and fair election as it did not take any stern action against the candidates who violated election rules, and did not take effective measures to resist vote rigging.
TIB executive director Iftekharuzzaman said the commission did not play its due role in the elections due to its poor leadership.
About the role of political parties, he said as both Awami League and opposition BNP played questionable role during the city polls, the voters were cheated.
Former chief election commissioner ATM Shamsul Huda also spoke on the occasion.
Source: Dhaka Tribune