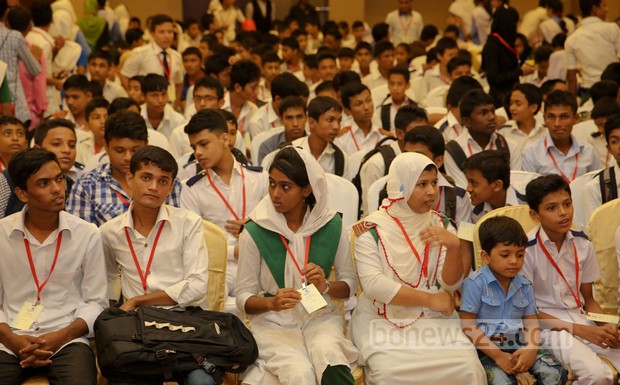 Hello's child journalism festival has begun in 23 districts with countrywide selections being made from among young enthusiasts.
The world's first specialised Bangla child journalism site, hello.bdnews24.com, launched the programme through an event at the Ocean Paradise Hotel in Cox's Bazar on Monday.

Speaking at the inauguration, Junaid Ahmed Palak, the state minister for ICT, said among these children were the future leaders of the nation.

"You must go forward to build the nation as soldiers of truth," he said.

bdnews24.com Editor-in-Chief Toufique Imrose Khalidi said he hoped these juvenile journalists would one day redeem the failures of the older generations.


Souvenirs were handed out to 173 children from various parts of Cox's Bazar who took part in Hello's selection test on Aug 22.

Of them, 20 selected participants have received training on journalism and child rights.

The event was streamed live on bdnews24.com.

Children from Chittagong, Cox's Bazar, Bandarban, Feni, Noakhali, Sylhet, Moulavibazar, Rajshahi, Dinajpur, Rangpur, Chapainawabganj, Pabna, Bogra, Mymensingh, Tangail, Madaripur, Gopalganj, Faridpur, Khulna, Jessore, Barisal, Jhalakathi and Narail are also taking part in Hello's selection process.

The programme, organised by bdnews24.com, is running simultaneously in 23 districts. Grameenphone is a partner of the programme.

A group of artistes from Udichi sang the national anthem at the beginning of the event.

Palak, who is the youngest minister in the Cabinet, told the children: "We have to work for the nation and humanity. You have to bring up the truth from all spheres of society."

"The future leaders of this nation must move ahead with honesty and morality."

He encouraged the children to become IT-friendly.


The state minister urged the participants to get ready to build a 'golden Bangladesh' as envisioned by the Father of the Nation Bangabandhu Sheikh Mujibur Rahman.

"Both you and your words will go far," he said.

In his inaugural speech, Editor-in-Chief Khalidi emphasised the importance of ethics in journalism.

"If only the media works properly, democracy will flourish, democratic institutions will flourish and the state organs will become more effective," he said.

The nation had 'not done enough' of what should be done for children, he remarked.

"We had a lot more to do, a lot more to give. You must move ahead despite our shortcomings. Your success will make up for our failures."

Local MP Saimum Sarwar Kamal, reserve seat MP Khorshed Ara Haque, Cox's Bazar Deputy Commissioner Md Ruhul Amin, freedom fighter Syed Ragib Ali, surfer Zafar Alam, among others, were present at the programme.


The specialised children news website, hello.bdnews24.com, was launched on Mar 31 last year.

Children and adolescent journalists gather and present news on the website run by Bangladesh's first internet-only newspaper – bdnews24.com.

Hello Executive Editor Mujtaba Hakim Plato said there were currently more than 5,000 children and teens involved with Hello.

"Trained child journalists will play a role in the mainstream media under the supervision of bdnews24.com's experienced journalists. Their reports will be open for all news media in Bangladesh."
Source: Bd news24