Cultural Correspondent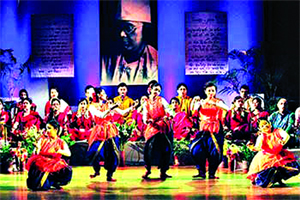 Chhayanaut, a leading cultural organization of the country concluded a two -day celebration of the 117th birth anniversary of National Poet Kazi Nazrul islam on May 28.
The two day festival was launched by Shaheen Samad, instructor of Chhayanaut at the main auditorium of Chhanaut in the evening of May 27.  "Mora Jhonjar Moto Uddam" the famous Nazrul song was presented in a group performance to open the cultural session of the festival. Nazrul exponent Professor Emeritus Rafiqul Islam was the chief guest of the festival. His famous Nazrul song was rendered on the opening day in a special segment titled "Aamar Nazrul." Shaheen Samad, Nasima Shaheen, Sumon Mazumdar, Sharmin Sathi Islam, Rezaul Karim were on stage to render Rafiqul Islam's favourite Nazrul score.
In the opening day the Department of Music of Jagannath University was invited to perform. Along with them Fatema-Tuz-Zohra, Sumon Chowdhury, Priyanka Gope, Joseph Kamal Rodrix, Tanvir Ahmed and more performed. Krishti Hafez and Mahmuda Akhter read and recited from Nazrul's spirited writings during the event.
On the second day Ekushey Padak winner Mofidul Haque was invited as the keynote speaker. The day started in the evening with Nazrul's revolutionary song "Anbore Megh Mridong Baje." A number of talented artistes of Chhanaut performed in the vibrant group rendition of the song. "Esho Shankar Krodhagni" was the second fiery song of Nazrul that was presented by Chhyanaut following right after the key note speech. Celebrated singers Nashid Kamal, Yasmin Mushtari, Khairul Anam Shakil, Bhaswar Bandyopadhyay, Alok Sen, Sukla Pal Shetu, Rezwanul Haque, Didarul Karim, Yakub Ali Khan, Kaniz Husna Ahammadi rendered Nazrul songs in their solo performances. Liakat Ali Khan was present on the second day to read out from Nazrul's writings. Nazrul Institute was the only other troupe apart from Chhayanaut that took part in group performances in the evening of the closing day of the two-day festival.
Source: Weekly Holiday