Chattra League not taking responsibility of Abrar murder
Nayadiganta English Desk   09 October 2019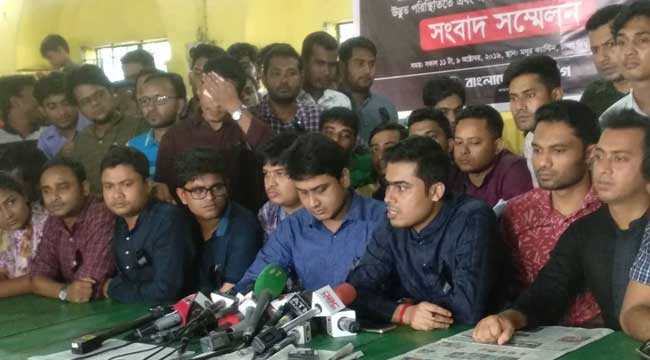 Acting general secretary of ruling Awami League party's student wing Bangladesh Chhatra League (BCL), Lekhak Bhattacharjee, said that they would not take the reponsibility for anyone's personal conflict.
He made the statement at a press briefing near Dhaka University's Madhur Canteen at around 11am on Wednesday.
Condemning the brutal murder of Abrar Fahad, a student of Bangladesh University of Engineering and Technology (Buet) Bhattacharjee has stated that they do not support the demand of banning student politics over this incident.
Besides, Chhatra League gave no instructions to beat any student, he said and added: "We are not going to take responsibility of anyone's personal conflict."
He also condemned the failure of the hall authorities in preventing Abrar's murder.
On the other hand, Buet students gave the authorities an ultimatum of seven days to ban all political student organization and their activities in the campus.
Abrar, a second year student of electrical and electronic engineering department of the university, was beaten to death on Monday.
Some Chhatra League leaders have been accused of beating him for his alleged involvement with Islami Chhatra Shibir, the student wing of Jamaat-e-Islami.
Police has so far arrested nine Buet unit BCL leaders including Buet Chhatra League General Secretary Mehedi Hasan Rasel, Joint Secretary Muhtasim Fuad, who is also the vice president of Sher-e-Bangla hall, Information and Research Affairs Secretary Anick Sarker, Sports Secretary and student of Naval Architecture and Marine Engineering Meftahul Islam Zion, Chhatra League Organizing Secretary Mehedi Hasan Robin, Publication Secretary Ishtiak Munna, Deputy Social Service Secretary Ifti Mosharraf Sakal, Deputy Law Affairs Secretary Amit Saha, and Tanveer, student of mechanical engineering department.
Meanwhile, Abrar's father Barkat Ullah filed a murder case against 19 people with Chawkbazar police station on Monday evening.
Later, Bangladesh Chhatra League expelled 11 of its members permanently from the organization for their involvement in Abrar's murder.
Abrar's death sparked protest across Bangladesh. The protesters have demanded justice for Abrar and capital punishment for the murderers.
As of now, 13 people have been arrested in connection to the murder.
Kamruzzaman