Bangladesh's capital market traded buoyantly on the week's opening following the government's announcement to withdraw a proposal to tax profits of individual investors.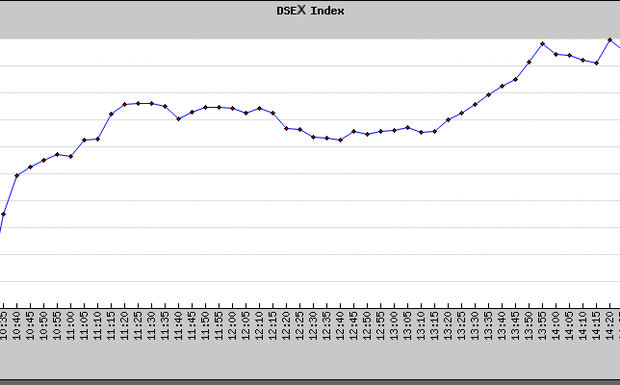 Indices at both the Dhaka Stock Exchange (DSE) and Chittagong Stock Exchange (CSE) rose by as much as 1.5 percent on Sunday.
The first budget of the new government dropped a proposal to impose 'gain tax' on profits on Saturday to prop up the market that has been wobbling since the 2011 debacle.
Finance Minister AMA Muhith said the prime minister had made the proposal to help the market flourish and attract investment.
CSE Managing Director Syed Sajid Hossain believes the decision has had a positive impact on the market.
"Announcement of withdrawal of gain tax seems to have boosted the market," he said.
The DSE key index closed at 77.65 points higher at 4,487.07 while the CSE closed at 139 points higher at 8541.
Turnover at the DSE increased by nearly Tk 870 million to Tk 3.9 billion while the CSE registered a Tk 330 million turnover, nearly Tk 20 million more than the previous business day.
Of the shares traded at DSE, prices of 236 rose, 44 declined and 16 remained unchanged.
The government took a number of measures to help revive the capital market.
It announced a five-year tax exemption for the bourses and raised the tax-free dividend income ceiling for individuals from Tk 10,000 to Tk 15,000 to bring investors back to the market.
Muhith recommended a 3 percent capital gain tax on market profits ranging from Tk 1 million to 2 million, and 5 percent on profits over Tk 2 million.
The tax-free profit margin has been increased and 10 percent tax rebate for listed companies which provide 30 percent or more dividends, instead of 20 percent, has been introduced.
Apart from these, the budget also provided scope to legalise untaxed income or 'black money' as it is popularly known.
This will have a good impact on the market, said Phoenix Securities Managing Director A Quadir Choudhury.
"Factors like a possibility of political stability, improving bilateral ties with India, the decrease of general strikes will surely help the economy make a positive turnaround," he said.
"The capital market is influenced by these factors," Choudhury observed.
Source: UNBConnect