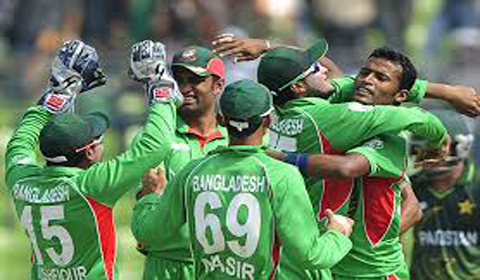 If one is asked which two teams Bangladesh should beat with ease in this World Cup, Afghanistan and Scotland would be the obvious answers. But whenever these "should beat" situations arise, the Tigers seem to crack under the pressure of expectations.
Examples are aplenty — defeat to Canada in 2003, a loss to Ireland in 2007, a shocking performance against Hong Kong in the last T20 World Cup — Bangladesh have lost to the underdogs quite a few times. Is the pressure of expectation that unbearable for Tigers that they crumble so often?
Before leaving for Australia, skipper Mashrafe said, "We are not targeting any particular team as it puts extra pressure on us." From a skipper's point of view, it is a logical statement. But should Tigers hesitate that much to promise a reasonably expected win against the Afghans?
Former national skipper Gazi Ashraf Hossain said, "Bangladesh has no other option but to beat Afghanistan. Our players know that they are a much better team than Afghanistan."
The Afghans are quite charged up, doing pretty well in the warm-ups. They defeated United Arab Emirates scoring more than 300 runs. Even though they didn't win against India, their batting skill was lauded. On the other hand, every one knows how the Tigers fared in the warm-up matches.
"Bangladesh's four consecutive losses in warm up matches will definitely motivate the Afghans," said Gazi Ashraf.
"The last defeat against Ireland was completely uncalled for. The players should have taken the match more seriously," he added.
However, the former player expects the Tigers to bounce back. "Those were only warm up matches. Hopefully the team will learn from the mistakes and get back to business," he said.
However, 'pressure' is as much of a competitor for the Tigers as the Afghans are. Can Bangladesh handle the pressure?
Former opener Athar Ali Khan said, "Pressure will always be there, no matter who is playing against us. We should have the ability to fight it."
"We have to fight till the last ball, with only a win on our minds," noted the famous commentator.
Source: Prothom Alo