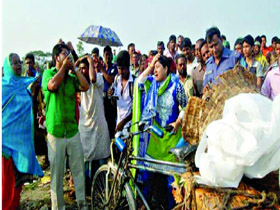 Nur Hossain, the prime suspect in the Narayanganj seven murders, may be killed in 'crossfire' dodging the legal process, fears slain councillor Nazrul Islam's father-in-law Shahidul Islam.
They may well be an attempt to sweep the real events under the rug by killing him in extrajudicial means, he believed.

"If Nur Hossain dies in crossfire, the real criminals will get away with what they have done," Islam told journalists on Friday.

"But we want to know what happened. We want the murderers tried. We don't want investigations and arrests for eyewash," he added.

It was Islam who first claimed that RAB had taken Tk 60 million from Councillor Nur Hossain and his associates to kill the seven.


His allegation triggered an internal inquiry by RAB who commissioned a four-strong committee while the public administration ministry constituted another probe panel at the orders of the High Court.

Later, Lt Col Tarek Sayeed Mahmud was removed from his job as head of the Narayanganj-based RAB-11 along with two other officers – Maj Arif Hossain and naval officer Lt Commander MA Rana.

They were forced to retire from government jobs last Wednesday because of their suspected ties to the incident.

Seven people including Narayanganj City Councillor Nazrul Islam and senior lawyer Chandan Kumar Sarkar were abducted on Apr 27. Their bodies were retrieved from the Shitalakhhya river a few days later

Nazrul's younger brother Abdus Salam has demanded arrest of the perpetrators of the murders at once.

He also called for bringing the three former RAB officers to book for investigations to be fair.
Nazrul's family had filed a case a day after he was abducted, accusing Siddhirganj Awami League leader Nur Hossain and several others.

Police also raided Hossain's house two days after the bodies were found in the river. Twelve people were detained from there while a microbus was also confiscated.

But the prime accused was not found.

Police are yet to locate Hossain's latest whereabouts even 10 days after the murders.
Source: Bd news24