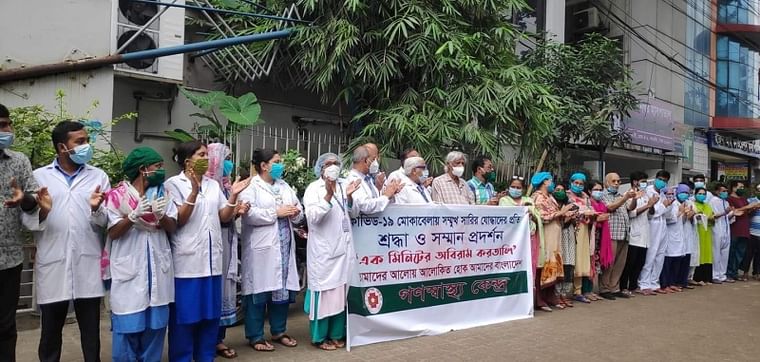 Founder of the Gonoshasthaya Kendra Zafrullah Chowdhury on Tuesday alleged that the government had approved the import of COVID-19 test kits only for business interests, instead of giving permission to use of Gonoshasthaya kits.
Zafrullah said this while speaking at a one-minute applause event in front of the Gonoshasthaya Nagar Hospital in Dhanmondi today. The programme was held at 30 centres of the Gonoshasthaya Kendra across the country.
Zafrullah said, "It is the government of the businesspersons. That is why it has approved the import of kits, though our antibody and antigen kits are ready. This is for business purposes."
Zafrullah also said the development of the kits had cost the Gonoshasthaya Kendra Tk 100 million, but the government did not approve it.
He said Gonoshasthaya Kendra would no longer apply for the approval of the kits. However, he added, once the government gives its nod, they are ready to provide the kits.
Commenting that the government is still pursuing a wrong policy, Zafrullah Chowdhury said it did not even approve the trials of the coronavirus vaccine in time.
Replying to a question from the journalists, Zafrullah Chowdhury said the country's health system would be developed only if a democratic government is established through a neutral midterm elections.
"People die when a war breaks out, just as physicians, nurses and others will be at health risk during a health disaster," said Zafrullah while talking about the frontliners. The government, he added, should extend enough assistance and cooperation to them.
Director of the Gonoshasthaya Kendra Mohammad Shawkat Ali also spoke at the event while it was conducted by Gonoshasthaya press adviser Jahangir Alam.