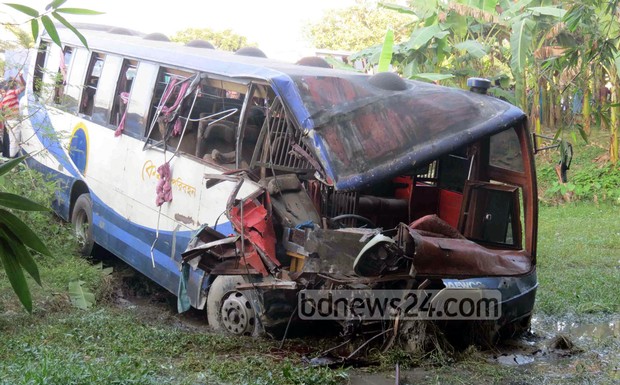 The death toll from an accident involving two passenger buses in Natore has climbed to 34, making it one of the biggest road tragedies in Bangladesh.
Prime Minister Sheikh Hasina has expressed grief over Monday afternoon's mishap on Dhaka-Rajshahi Highway at Borhaigram.
The government has opened an investigation into the mishap.
Police said a bus of Rajshahi-bound Keya Paribahan collided with oncoming Gurudaspur Upazila-bound bus of Othoi Paribahan in the Rejir Morh area around 4:15pm, leaving at least 20 others injured.
Witnesses and survivors blamed the Keya Paribahan bus for the accident saying it ran into the other bus while overtaking a truck.
The impact flung the Keya Paribahan bus onto the side of the road while the other one turned upside down.
Traffic on the key highway resumed in the evening after two hours.
According to survivors, 29 of the victims were passengers of Othoi Paribahan.
Thousands thronged the accident site while the air was thick with wailing of relatives desperately looking for their loved ones.
Confusion arose over the number of dead as police officials at the scene gave varying accounts.
Several of those seriously injured passed away at hospital.
Both the prime minister and health minister have ordered authorities to get the injured properly treated.
Rajshahi Medical College and Hospital Director Brig Gen AKM Nasir Uddin said they had admitted 17 of the injured until 9pm and deployed 10 additional doctors for their treatment.
Around 8:30pm, police's Rajshahi range Deputy Inspector General Iqbal Bahar told reporters that the death toll was 32.
Several injured were being treated at the RMCH.
One Rejaul Islam, 28, from Natore's Gurudaspur died there, RMCH police outpost Assistant Sub-Inspector Imran Hossain told bdnews24.com.
Around 10pm, he said two others – Azadul Bari, 30, Aynal Haque, 40 – succumbed to their injuries at the hospital failing to respond to treatment.
Earlier, Borhaigram police OC Monirul Islam had said 31 people died in the accident, 20 of them on the spot.
Most of the bodies were brought to Bonparha Highway Police Station. Natore's Superintendent of Police Basudeb Banik said they had been handing over bodies to their relatives from there.
Relatives took over several bodies from hospitals.
Bonparha OC Fuad Ruhani said they had handed bodies of 27 victims, including those of two women and a child, to relatives.
The body of a Keya Paribahan passenger, hailing from Chittagong, was kept at the police station until 8pm.
Drivers of both buses and their assistants were among the victims.
Those who have been identified so far are, Arif Hossain, 45, Abdur Rahman, 55, Sharif Uddin, 45, Alal Hossain, 50, Alam Sheikh, 35, Rubel Hossain, 55, Jan Mohammad Molla, 56, Ebad Ali, 65, Atahar Hossain, 45, Aynal Hossain, 55, Krishnapad Sarkar, 42, Rahmat Ali, 46, Shailen Tikal, 45, Sheba Khatun, 8, Belal Hossain, 47, Labu Hossain, 30, Tofazzal Hossain, 40, Kohir Uddin, 60, Sohrab Hossain, 50, Kismat Ullah, 35, Babu Sheikh, 45, Kuddus Ali, 65, Hafizur Rahman, 58, and Rejaul Karim, 32.
Source: Prothom Alo