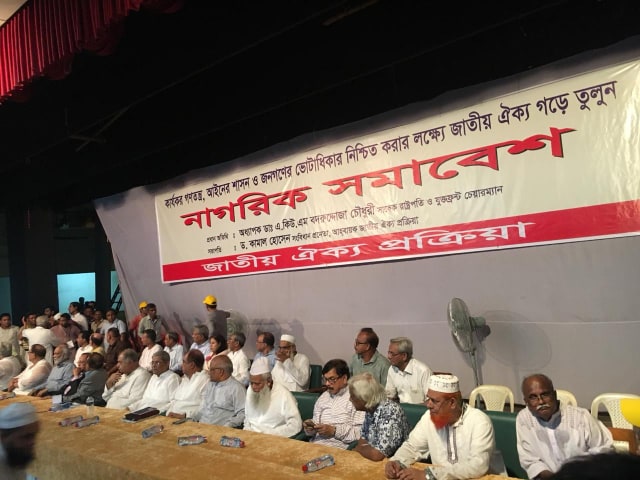 The alliance was formed on September 15 "to ensure functional democracy" in the country
BNP Secretary General Mirza Fakhrul Islam Alamgir has extended his party's support to "greater national unity", an alliance of AQM Badruddoza-led Juktofront and Dr Kamal Hossain-led Jatiya Oikya Prokriya.
Fakhrul dubbed the Awami League-led government autocratic.
"It should step down. There will be no independence unless the government is removed and a government of the people is installed," he said, addressing a citizen's rally at the Mahanagar Natya Mancha on Saturday.
Senior BNP leaders Khondoker Mosharraf Hossain and Moudud Ahmed also attended the program, organized by Jatiya Oikya Prokriya.
The Juktofront and Jatiya Oikya Prokriya formally announced the journey of a "greater national unity" on September 15 to "ensure functional democracy" in the country through a credible national election.
Gano Forum chief Kamal told the rally that its goal is to initiate the process of forming a national alliance to "establish effective democracy, ensure the rule of law and the people's voting rights."
Nagorik Oikya Convener Mahmudur Rahman Manna said: "No-one can stop the process."
Manna, a former Awami League leader, accused the government of attempting to stage another election like it did in 2014 to hold on to power.
Gonosonhoti Andolan Chief Coordinator Zonayed Saki also attended the program and expressed his solidarity with the alliance.
He demanded a non-partisan government and a national commission to ensure a congenial atmosphere for the national polls and tackle post-election violence. "No election can be held under a partisan government," he added.
Bikalpa Dhara Bangladesh President Badruddoza made a proposal to curb irregularities during the election – installing CCTV cameras in and around polling stations instead of using electronic voting machines.
"After 47 years of independence, we have to decide whether we want an end to autocracy or not. If we want democracy, then we need this alliance," he said.
Source: Dhaka Tribune