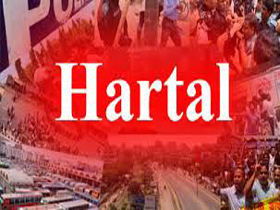 The BNP-led 20-party alliance has extended its ongoing 72-hour nationwide hartal till 6am Friday.
Joint Secretary General of BNP Salahuddin Ahmed made the announcement through a press release on Tuesday afternoon.
The opposition combine called the 72-hour hartal that started from Sunday, despite nationwide SSC examinations in which about 1.5 million students are taking part.
The alliance has been observing the strike protesting what it said killings, mass arrest, torture on party activists and restoration of democracy.
Two papers of SSC and equivalent examinations which were scheduled to be held on Sunday and Tuesday were rescheduled due to the hartal call.
Earlier, the government had to reschedule the exam dates twice because of the 20-party alliance enforced previous shutdowns.
Source: Dhaka Tribune