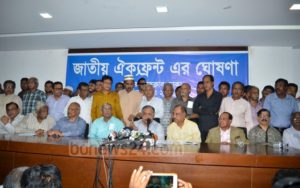 The BNP has finalised nomination of at least 13 more of its candidates as it has started sharing with its allies seats in the parliamentary elections.
After daylong negotiations at the BNP chief's Gulshan offices in Dhaka amid violent protests by disgruntled candidates on Saturday, the party reportedly gave 19 seats to its allies in the Jatiya Oikya Front.
BNP leaders confirmed that the Jamaat-e-Islami in the 20-Party alliance got 17 constituencies to fight for.
Some leaders said the BNP has cleared five seats each for the Gono Forum, the Jatiya Samajtantrik Dal-JSD, the Nagorik Oikya, three for the Krishak Sramik Janata League and one for the Jatiya Oikya Prokriya.
For the allies in 20-Party coalition, the BNP has left five seats for Liberal Democratic Party, four for Jamiyate Ulamaye Islam, two for Khelafat Majlish, two for Jatiya Party (Kazi Zafar), and one each for Bangladesh Jatiya Party, National People's Party, Labour Party, and People's Party of Bangladesh.
The negotiations were under way at midnight.
Jamaat leaders said they hoped they would get "some more" seats.
The BNP has left 17 other constituencies for its other partners in the 20-Party coalition.
The BNP's allies are contesting in the election with its paddy sheaf logo.
The party on Friday unveiled a list of 206 of its candidates.
On Saturday, until midnight, it confirmed nomination of 13 more of party aspirants.
It will send the full list of its candidates to the Election Commission on Sunday.
The revelation of more of its final candidates and those from the allies came hours after the commission ruled its chief Khaleda Zia ineligible to run for parliament this time due to her convictions in corruption cases.
A number of BNP leaders were cleared by the EC through hearings of their appeals against rejection of their nomination by the returning officers, while some others were barred.
"Discussions on sharing seats are under way. It won't be right to speak now," BNP leader Nazrul Islam Khan, the coordinator of the 20-Party alliance, told bdnews24.com
Gono Forum General Secretary Mostafa Mohsin Montu, while leaving the BNP offices later in the night, told the media that there was "no problem" in the Oikya Front over the share of seats.
"We've sought 10 to 12 seats. Now it depends on the BNP how many they will give us. We will collect the confirmation letters early tomorrow morning," he added.
The BNP boycotted the last elections in 2014 as its demand for a neutral polls-time government was not met. This time the ruling Awami League is in power and Khaleda in jail, serving 17 years in two corruption cases.
In the 2008 elections, the BNP candidates contested for 259 seats leaving the 41 others for the allies in the Jamaat coalition.
Source: Bdnews24.