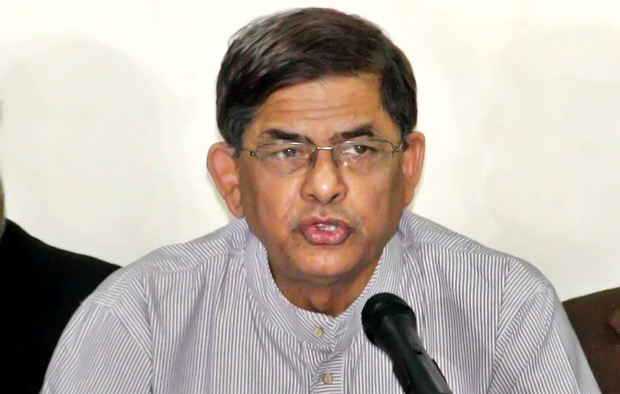 Accusing the government of trying to manipulate the upazila polls, BNP acting secretary general Mirza Fakhrul Islam Alamgir on Wednesday said no fair election is possible under the current regime.
"Today's upazila elections have once again proved that elections won't be free and fair under the Awami League government. It's in no way possible to hold a neutral election under it," he said.
The BNP spokesman made the remarks while addressing a discussing at the Jatiya Press Club, marking the launching of a book titled 'Bangladeshi Jatiyatabad and Tarique Rahman'  by Akhter Mahmud, a Bangladeshi expatriate living in London.
Fakhrul said the government has annihilated democracy in the country on January 5 through holding a voter-less and lopsided polls.
Nearly upazilas of 40 districts went to polls on Wednesday in the first phase of the staggered local body elections.
Justifying their decision of boycotting the 10th parliamentary polls, Fakhrul said the government has established a reign of terror across the country over the national polls and killed over 300 people.
Expressing his grave concern over the growing incidents of extrajudicial killing, he said the government created a horrific situation in the country resorting to extrajudicial killing and forced disappearance.
The BNP leader urged the media to be vocal against the extrajudicial killing and play a pivotal role in stopping the menace.
"We're living in such a country where opposition leaders and activists are being killed after making them disappeared. People's bodies are found alongside roads regularly. Such extrajudicial killings are unimaginable in any civilised country," he added.
Fakhrul also slammed the government for what he said arresting, harassing and torturing the opposition men by filing 'false' cases against them.
He urged the BNP leaders and activists to get united putting behind their frustrations for waging a strong movement to save the country its people, sovereignty and democracy.
Source: UNB Connect