Prothom Alo Dhaka | Dec 10, 2018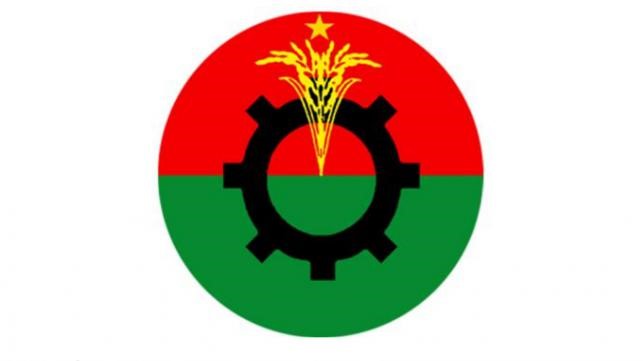 BNP on Sunday completed the processto nominate its candidates to contest the 11th parliamentary elections with thedistribution of its final letters among the selected aspirants for constituenciesin capital Dhaka, reports UNB.
BNP has shared 58 seats with its partners from the Jatiya Oikyafront and the 20-party alliances and fielded its own candidates in 242 parliamentary seats.
The candidates who will contest with 'Sheaf of paddy' is below:
Rangpur Division
Panchagarh-1: Nowshad Zamir, Panchagarh-2: Forhad Hossain Azad, Thakurgaon-1: Mirza Fakhrul Islam Alamgir, Thakurgaon-2: Md Abdul Haki, Thakurgaon-3: Jahidur Rahman, Dinajpur-1: Muhammad Hanif, Dinajpur-2: Sadique Riaz, Dinajpur-3: Syed Jahangir Alam, Dinajpur-4: Md Akteruzzaman Mia, Dinajpur-5: AZM Rezwanul Haque, Dinajpur-6: Anwarul Islam, Nilpharami-1: Rafiqul Islam, Nilpharami-2: Moniruzzaman Montu, Nilpharami-3: Azizul Islam, Lalmonirhat-1: Md Hasan Rajib Pradhan, Lalmonirhat-2: Md Rokon Uddin Babul, Lalmonirhat-3: Asadul Habib Dulu, Rangpur-1: Rahmatullah, Rangpur-2: Mohammad Ali Sarkar, Rangpur-3: Rita Rahman, Rangpur-4: Emdadul Huq Bharosa, Rangpur-5: Golam Robbani, Rangpur-6: Saiful Islam, Kurigram-1: Saifur Rahman Rana, Kurigram-2: AMSA Amin, Kurigram-3: Tasvir Ul Islam, Kurigram-4: Azizur Rahman, Gaibandha-1: Majedur Rahman, Gaibandha-2: Abdur Rashid Sarker, Gaibandha-3 TIM Fazle Rabbi Chowdhury, Gaibandha-4: Faruk Kabir Ahmed, Gaibandha-5: Md Faruk Alam Sarkar.
Rajshahi division
Joypurhat-1: Fozlur Rahman, Joypurhat-2: AEM Khalilur Rahman, Bogura-1: Qazi Rafiqul Islam, Bogura-2: Mahmudur Rahman Manna, Bogura-3: Masuda Momin, Bogura-4: Md Mosharraf Hossain, Bogura-5: Golam Mohammad Siraj, Bogura-6: Mirza Fakhrul Islam Alamgir, Bogura-7: Morshed Milton, Chapainawabganj-1: Md Shahjahan Mia, Chapainawabganj-2: Md Aminul Islam, Chapainawabganj-3: Harun-Ur-Rashid, Naogaon-1: Md Salek Chowdhury, Naogaon-2: Shamshuzzoha Khan, Naogaon – 3: ParvejArefin Siddique, Naogaon – 4: Abul Hayat Mohammad Shamshul Alam Pramanik, Naogaon -5: Md Jahidul Islam Dhalu, Naogaon -6: Alamgir Kabir, Rajshahi-1: Aminul Haque, Rajshahi-2: Mizanur Rahman Minu, Rajshahi-3: Shahidul Islam Milon, Rajshahi-4: Abu Hena, Rajshahi-5: Nadim Mostafa, Rajshahi-6: Abu Sayeed Chan. Natore-1: Monjurul Islam, Natore-2: Sabina Yasmin, Natore-3: Daud Ar Mahmud, Natore-4: Abdul Aziz, Sirajgonj-1: Romana Morshed Kanak Chapa, Sirajgonj-2: Romana Mahmud, Sirajgonj-3 Abdul Manna Talukder, Sirajgonj-4: Rafiqul Islam Khan, Pabna-1: Abu Saeed (Gana Forum), Pabna-2: AKM Selim Reza Habib, Pabna-3: KM Anwarul Islam, Pabna-4: Md Habibur Rahman Habib, Pabna-5: Md Iqbal Hossain.
Khulna division
Meherpur-1: Masud Arun, Meherpur-2: Javed Masum Milton, Kushtia-1: Reza Ahmed Bachchu Molla, Kushtia-2: Ahsan Habib Lincoln, Kushtia-3: Jakir Hossain Sarker, Kushtia-4: Syed Mehdi Ahmed Roomy, Chuadanga-1: Md Sharifuzzaman, Chuadanga-2: Mahmud Hasan Khan (Babu Khan), Jhenidah-1: Md Asaduzzaman, Jhenidah-2: Abdul Mazid, Jhenidah-3: Matiar Rahman, Jhenidah-4: Saiful Islam Firoz, Jashore-1: Mofiqul Hasan Tripty, Jashore-2: Abu Said Md Shahadat Hossain, Jashore-3: Anindya Islam Amit, Jashore-4: TS Aiyub, Jashore-5: Muhammad Wakkas, Jashore-6: Abul Hossain Azad, Magura-1: Monwar Hossain, Magura-2: Nitai Roy Chowdhury, Narail-1: Jahangir Biswas, Narail-2: AZM Foriduzzaman, Bagerhat-1: Sheikh Masud Rana, Bagerhat-2: MA Salam, Bagerhat-3: Abdul Wadud Sheikh, Bagerhat-4: Abdul Alim, Khulna-1: Amir Ezaz Khan, Khulna-2: Nazrul Islam Manju, Khulna-3: Rakibul Islam Bakul, Khulna-4: Azizul Bari Helal, Satkhira-1: Habibul Islam Habib, Satkhira-2: Mohammad Abdul Khaleque, Satkhira-3: Shohidul Alam, Satkhira-4: GM Nozrul Islam.
Barishal division
Barguna-1: Motiar Rahman Talukder, Barguna-2: Khondokar Mahbub Hossain, Patuakhali-1: Altaf Hossain Chowdhury, Patuakhali-2: Salma Alam, Patuakhali-3: Golam Mawla Roni, Patuakhali-4: ABM Mosharraf Hossain, Bhola-1: Alamgir Kobir, Bhola-2: Hafiz Ibrahim, Bhola-3: Hafiz Uddin Ahmed, Bhola-4: Nazimuddin Alam, Barishal-1: Zahiruddin Swapan, Barishal-2: Sharfuddin Santu, Barishal-3: Joynal Abedin, Barishal-4: Nurur Rahman Jahangir, Barishal-5: Mujibur Rahman Sarwar, Barishal-6: Abul Hossain Khan, Jhalakathi-1: Shahjahan Omar, Jhalakathi-2: Jeba Amin Khan, Pirojpur-1: Shamim Saidee, Pirojpur-2: Mostafizur Rahman Iran, Pirojpur-3: Ruhul Amin Dulal.
Dhaka division
Tangail-1: Shahidul Islam, Tangail-2: Sultan Salahuddin Tuku, Tangail-3: Lutfar Rahman Khan Azad, Tangail-4: Liakat Ali (Krishak Sramik Janata League)Tangail-5: Mahmudul Hasan, Tangail-6: Goutam Chakrabartty, Tangail-7: Abul Kalam Azad Siddiquee, Tangail-8: Kuri Siddique (Krishak Sramik Janata League), Kishoreganj -1: Rezaul Karim Khan Chunnu, Kishoreganj -2: Akhtaruzzaman, Kishoreganj -3: Saiful Islam (JSD) Kishoreganj -4: Fazlur Rahman: Kishoreganj -5: Sheikh Mujibar Rahman Iqbal, Kishoreganj -6: Shariful Alam, Manikgonj -1: SM Jinnah Kabir, Manikgonj -2: Moinul Islam Khan Shanto, Manikgonj -3: Afroza Khatun Rita, Munshiganj -1: Shah Moazzem Hossain, Munshiganj -2: Mizanur Rahman Sinha, Munshiganj -3: Abdul Hai, Dhaka-1: Khondokar Abu Ashfaq, Dhaka-2: Irfan Ibne Aman, Dhaka-3: Gayeshwar Chandra Roy, Dhaka-4: Salahuddin Ahmed, Dhaka-5: Nobiullah, Dhaka-6: Subrata Chowdhury (Gano Forum) Dhaka-7: Mostafa Mohsin Montu( Gano Forum) Dhaka-8: Mirza Abbas, Dhaka-9: Afroza Abbas, Dhaka-10: Abdul Mannan, Dhaka-11: Shamim Ara Begum, Dhaka-12: Saiful Alam Nirob, Dhaka-13: Abdus Salam, Dhaka-14: Syed Abu Bakar Siddique, Dhaka-15: Shofiqur Rahman, Dhaka-16: Ahsan Ullah Hasan, Dhaka-17: Andaleev Rahman Partha, Dhaka-18: Shahid Uddin Mahmud (JSD) Dhaka-19: Dewan Mohammad Salahuddin, Dhaka-20: Tamiz Uddin.
Gazipur-1: Chowdhury Tanvir Ahmed Siddiquee, Gazipur-2: Salahuddin Sarker, Gazipur-3: Iqbal Siddique, Gazipur-4: Shah Riajul Hannan, Gazipur-5: Fazlul Haque Milon, Narsingdi-1: Khairul Kabir Khokon, Narsingdi-2: Moin Khan, Narsingdi-3: Monzur Elahi, Narsingdi-4: Shardar Sakhawat Hossain Bokul, Narsingdi-5: Engineer Ashraf, Naryanganj-1: Kazi Moniruzzaman, Naryanganj-2: Nazrul Islam Azad, Naryanganj-3: Azharul Islam Mannan, Naryanganj-4: Monir Hossain, Rajbari-1: Ali Newaz Mahmud Khaiyam, Rajbari-2: Nasirul Huque Sabu, Faridpur -1: Shah Mohammad Abu Zafar, Faridpur-2: Shama Obaid, Faridpur-3: Chowdhury Kamal Ibn Yusuf, Faridpur-4: Khandker Iqbal Hossain, Gopalganj-1: FE Sarfuzzaman, Gopalganj-2: Shirajul Islam Shiraj, Gopalganj-3: SM Jilani, Madaripur-1: Sazzad Hossain Sidiquee, Madaripur-2: Milton Baidya, Madaripur-3: Anisur Rahman Talukder Khokon, Shariatpur-1: AKM Nasir Uddin, Shariatpur-2: Shafiqur Rahman Kiran, Shariatpur-3: Miah Nuruddin Ahmed Apu.
Mymensingh division
Jamalpur-1: Rashiduzzaman Millat, Jamalpur-2: Sultan Mahmud Babu, Jamalpur-3: Mostafizur Rahman Bablu, Jamalpur-4: Faridul Karib Talukder, Jamalpur-5: Shah Wares Ali Mamun, Sherpur-1: Sansila Zebrin, Sherpur-2: Fahim Chowdhury, Sherpur-3: Mahmudul Huque Rubel, Mymensingh-1: Ali Asgar, Mymensingh-2: Shah Shahid Sarwar, Mymensingh-3:M Iqbal Hossain, Mymensingh-4: Abu Wahab Akand, Mymensingh-5: Zakir Hossain, Mymensingh-6: Shams Uddin Ahmed, Mymensingh-7: Joynal Abedin, Mymensingh-8: AHM Khalekuzzaman (Gano Forum) Mymensingh-9: Khurram Khan Chowdhury, Mymensingh-10: Syed Mahbub Morshed, Mymensingh-11: Fakhar Uddin Ahmed Bachchu, Netrokona-1: Kaiser Kamal, Netrokona-2: Anwarul Hoque, Netrokona-3: Rafiqul Islam Hilali, Netrokona-4: Tahmina Zaman, Mymensingh-5: Abu Taher Talukder.
Sylhet division
Sylhet-1: Khondokar Abdul Muktadir, Sylhet-2: Tahsina Rushdir, Sylhet-3: Shafi Ahmed Chowdhury, Sylhet-4: Dilder Hossain Selim, Sylhet-5: Obaidullah Faruk, Moulvibazar-1: Nasir Uddin Ahmed, Moulvibazar-2: Sultan Mohammad Monsur, Moulvibazar-3: Naser Rahman, Moulvibazar-4: Mojibur Rahman Chowdhury, Habiganj-1: Reza Kibria, Habiganj-2: Abdul Basit Azad, Habiganj-3: GK Gouch, Habiganj-4: Ahmad Abdul Quader, Sunamganj-1: Nazir Hossain, Sunamganj-2: Nasir Chowdhury, Sunamganj-3: Shahinur Pasha Chowdhury, Sunamganj-4: Fazlul Haque Apsia, Sunamganj-5: Mizanur Rahman Chowdhury
Chattogram division
Brahmanbaria-1: Ekramuzzaman, Brahmanbaria-2: Ukil Abdus Sattar, Brahmanbaria-3: Khaled Hossain Mahbub Shyamol, Brahmanbaria-4: Muslim Uddin, Brahmanbaria-5: Kazi Nazmul Hossain, Brahmanbaria-6: Abdul Khaleque, Cumilla-1: Khondokar Mosharraf Hossain, Cumilla-2: Khondokar Mosharraf Hossain, Cumilla-3: Qazi Mujibul Haque, Cumilla-4: Abdul Malek Ratan, Cumilla-5: Md Yunus, Cumilla-6: Amin Ur Rashid, Cumilla-7: Redwan Ahmed, Cumilla-8: Jakaria Taher Shumon, Cumilla-9: Anwarul Azim, Cumilla-10: Monirul Haque Chowdhury, Cumilla-11: Syed Abdullah Mohammad Taher, Chandpur-1: Mosharraf Hossain, Chandpur-2: Jalal Uddin, Chandpur-3: Shiekh Farid Ahmed Manik, Chandpur-4: Abdul Hannan, Chandpur-5: Mominul Haque, Feni-1: Munshi Rofiqul Alam, Feni-2: Jainal Abedin, Feni-3: Akbar Hossain, Noakhali-1: Mahbub Uddin Khokon, Noakhali-2: Jainul Abedin Faruk, Noakhali-3: Barkat Ullah Bulu, Noakhali-4: Md Shahjahan, Noakhali-5: Moudud Ahmed, Noakhali- 6: Fazlul Azim, Laxmipur-1: Shahadat Hossain Selim, Laxmipur-2: Abul Khayer Bhuiyan, Laxmipur-3: Shahid Uddin Chowdhury Anny, Laxmipur-4: ASM Abdur Rab, Chattogram-1: Nurul Amin, Chattogram-2: Ajibullah Bahar, Chattogram-3: Kamal Pasha, Chattogram-4: Ishak Chowdhury, Chattogram-5: Syed Mohammad Ibrahim, Chattogram-6: Jashim Uddin Shikder, Chattogram-7: Nurul Alam, Chattogram-8: Abu Sufian, Chattogram-9: Shahadat Hossain, Chattogram-10: Abdullah Al Noman, Chattogram-11: Amir Khasru Mahmud Chowdhury, Chattogram-12: Enamul Huque, Chattogram-13: Sarwar Jamal Nizam, Chattogram-15: ANM Shamsul Islam, Chattogram-16: Zafrul Islam Chowdhury, Cox's Bazar-1: Hasina Ahmed, Cox's Bazar-3: Lutfor Rahman Kajal, Cox's Bazar-4: Shahjahan Chowdhury, Khagrachari-1: Shahidul Islam Bhuiyan, Rangamati: Moni Swapan Deowan, Bandarban-1: Saching Pru.