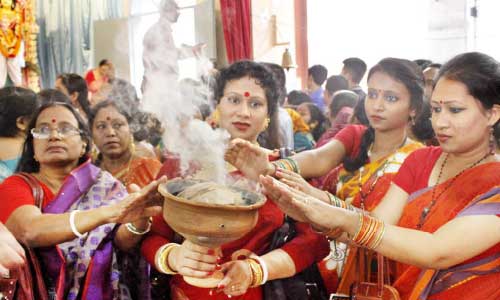 Bijoya Dashomi and Maha Nabomi of the five-day Sarodio Durga Puja, the biggest religious festival of the Hindu community, were celebrated across the country on Thursday.
However, the immersion of the idols of Goddess Durga will be taken place on Friday through the main formality of the Puja that ended today with observing the Bijoya Dashomi.
The formality of the Durga Puja will finally end on Friday with the solemn immersion of Goddess Durga in the capital as elsewhere across the country.
Hindus across the country celebrated the Bijoya Dashami amid festivity and enthusiasm by visiting their relatives' homes to share sweetmeats when married Hindu women put 'sindoor' (vermilion) on each other's forehead on the occasion. Thursday was a public holiday.
The Hindu devotees will join a traditional Bijoya Dashami procession from Dhakeshwari Temple in the capital on Friday under the auspices of Bangladesh Puja Udjapan Parishad and Mahanagar Sarbajanin Puja Committee. The procession will end on the bank of the river Buriganga after parading different city's streets.
Like Bangladesh, the Hindu community living abroad also celebrated the Durga Puja with due religious fervor and solemnity.
This year, Durga Puja was celebrated at over 28,000 puja mandaps across the country, including over 200 in Dhaka city.
The festival began on October 19 with 'Bodhan', 'Amontran' and 'Adhibas' of Goddess Durga and 'Ghatasthapan' on 'Shasthi Tithi'.
Mahasaptami Puja was offered on Tuesday while Mahastami and Kumari Puja on Wednesday.
Meanwhile, Bangladesh Betar, Bangladesh Television and private TV channels and radio stations aired special programmes while national dailies published special supplements highlighting the significance of Bijoya Dashami.
Durga Puja, the annual Hindu festival also known as Sharadiya (autumnal) Durga Utsav, is the worship of 'Shakti' (divine force) embodied in Goddess Durga. It symbolises the battle between good and evil where the dark forces eventually succumb to the divine force.
Source: New Age