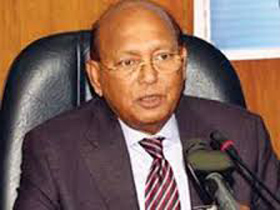 Bangladesh's export volume will one day hit US$ 50 billion as the government is trying hard to diversify the country's both products and export markets, Commerce Minister Tofail Ahmed said here on Sunday.
"The days aren't far away when Bangladesh's export volume will hit US$ 50 billion," he said mentioning that the readymade garment export alone will reach US$ 30 billion by 2015.
The Commerce Minister said Bangladesh would continue to make progress if the political stability prevails in the country.
He was addressing a seminar, titled 'Environment-friendly Leather Industries in Bangladesh: A Roadmap to Competitiveness and Sustainability' jointly arranged by Export Promotion Bureau (EPB) and RMM Leather Industries Limited.
The Commerce Minister said many new markets are opening up for Bangladesh like Brazil and Chile. "We'll explore markets in South American countries, including Argentina, Peru and some other countries," he added.
About leather industry's prospect, Tofail said Japan might turn into the biggest market for Bangladesh's leatherwoods and the issue would come up for discussions during the Prime Minister's upcoming Japan visit.
He mentioned that the confidence restored among the business community, and foreign investors are also increasingly showing interest to invest in Bangladesh.
Tofail said China is showing interest to invest US$ 1.2 billion for building 250 industries on 500 acres of land.
Industries Minister Amir Hossain Amu, Environment and Forests Minister Anwar Hossain Manju, Barrister Fazle Noor Taposh, MP, Senior Commerce Secretary Mahbub Ahmed, EPB Vice Chairman Shubashish Bose, FBCCI first vice president Monwara Hakim Ali and Chairman of RMM Leather Industries Ltd Mohiuddin ahmed Mahin also spoke on the occasion.
Managing Director of RMM Leather Industries Ltd Aniruddah Kumar Roy and Chairman of Bangladesh Council of Scientific and Industrial Research (BCSIR) Dr Ahmad Ismail Mustafa made two separate presentations highlighting the potential of the leather industry and barriers to its further development.
Source: UNBConnect