BCL leader detained with 'yaba pills'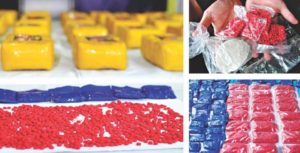 | Update: 18:51, Oct 14, 2018
Members of the Department of Narcotics Control (DNC) detained a local leader of Bangladesh Chhatra League (BCL) and his accomplice allegedly along with 30 yaba pills from Jatindra Nabayan area in Fulbari upazila in Kurigram on Sunday.
The detainees are Bulbul Ahmed, 28, former president of Kashipur union unit BCL and son of Monir Uddin Master of Ajoatari village in the upazila, and his associate Ashraful Islam, 38, son of Golam Mostafa of the same village.
District DNC office sub-inspector Zahidul Islam rounded up the duo in the morning, said SI Mahubar Rahman of Fulbari police station.
Later, they were handed over to the police station and a case was filed against them, he said.