Bangladesh: Time to implement road safety rules and corporate and government responsibility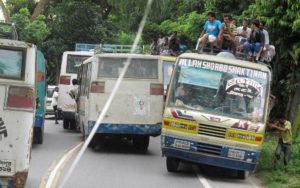 by F.R. Chowdhury    15 December 2018
It was on the 28th of November, 2018 BBC news broadcast about a fine of about £2.2 million imposed on a bus operator for failure to carry out their corporate responsibility as evidenced from their corporate negligence and poor performance. The regulator did not mention the corporate negligence as the main reason for the accident in which two persons died in Birmingham nearly five years back; but it clearly mentioned that lack of diligence on the part of the owners/ operators resulted into lack of maintenance of standards. This eventually led to un-controlled operation leading to accidents. There was clear evidence of failure on the part of the management and as such the fine was imposed. This news was followed by a statement by the managing director of the bus company accepting their liability and the company also declared that it had no intention to appeal against the fine.
Readers in Bangladesh must be wondering about such news from the United Kingdom. My intention is to let readers in Bangladesh know as to how the management and operation of road transport system has changed. The minister in Bangladesh who also happens to lead the trade union said that no minimum standard of education was necessary for obtaining driving licence and that it was enough to recognise cows and goats. Persons in the helm of responsibility are not expected to be so ignorant. They need to educate themselves with the changes taking place elsewhere. The nation expects them to take the lead for changes and modernization.
The aviation industry was the first to recognise the need for quality control in which not only pilots and flight engineers but also the owners and operators were equally involved. In fact the airline has to obtain an operator's licence before the first flight can be operated by them.  The international body ICAO (International Civil Aviation Organization), UN agency adopts standards for aircraft safety, airport safety, and licensing of pilots. Member states through their relevant civil aviation authority implement those standards. It is the national authority that grants the operator's licence after making sure that the operator is fully capable of meeting all situations and circumstances. The primary responsibility rest with flag state i.e. country of registration and the secondary responsibility rest with the country where or in whose airspace the aircraft is located. According to ICAO requirements every accident must be investigated. The purpose of the inquiry is not to apportion blame, liability or responsibility but to find the reason behind the accident. Learn lessons to avoid similar mistakes again. This is how the industry constantly achieves higher standard of safety. Compensations for death or injury are normally settled as per international (ICAO) convention ratified by member states. The airlines are normally insured against such liability. Parties involved may sue each other for further claims. Inquiry-investigation conducted by national (civil aviation) authority focuses more on compliance of requirements. Disciplinary action may be taken against the pilot, engineer or operator (owners and company executives) only through judicial inquiry after defendants are given every opportunity to defend themselves. These measures have nothing to do with apportionment of blame or responsibility or settlement of any claim.
It was on 06-March-1987 the cross channel ferry "Herald of Free Enterprise" capsized resulting into death of 193 persons. The UK-Government conducted a judicial inquiry that among many other recommendations, made it very clear that responsibility or blame cannot be confined to master and crew only but it must be also shared by managers as part of corporate responsibility. It emphasised the need for quality controlled operation where the company shall also bear its part of responsibility. For the first time the judiciary made it clear that profit making is not the only responsibility of the owners-managers. They are also responsible for safety, environment, health and hygiene. The primary responsibility is to provide safe working conditions and environment and attend to other needs and requirements to maintain the standard. There was clear necessity for documented procedure to meet the regulatory requirements, training to work according to procedures and record of action in compliance with procedure. There must also be periodic review of procedures for possible improvements. Based on these recommendations, the United Kingdom submitted to IMO (International Maritime Organization) a proposal for introduction of a safety management system. ISM (International Safety Management) was adopted and added to SOLAS-74 (Safety of Life at Sea) Convention. Now it is mandatory for both ship and the company (office) to be audited and certified for compliance of the code. Inquiry-investigation of maritime accident-casualty conducted by the administration is not for apportionment of blame or responsibility and certainly not for settlement of claims. It is to ensure regulatory compliance. Any disciplinary action must be taken by a judicial investigation after giving accused every opportunity to defend. Matters relating to damage, loss, claim and compensation are for courts to settle. Informatively compensation in respect of passengers and their luggage are regulated by the Athens Convention and cruise ships are insured against such liability.
I have explained in previous paragraphs how the aviation and maritime sectors work for achieving total quality management. Both sectors are international and comply with common requirements. The road transport system is different because it is essentially a national matter. However, a country can study systems already in operation elsewhere and blend them with their specific requirements to find the best solution. In Bangladesh over 90% vehicles involved in road accidents are commercially operated vehicles. We can easily conclude that greed for more money is an important factor – for the owners it is more profit and for the drivers and assistants an effort to work more without sufficient rest to earn more. These factors must be kept in mind while developing a safety management system that would include a lot of responsibility for the owners and operators.
We found lot of similarity in practice and procedure followed by aviation and maritime industry. The same principles could provide the foundation for a road safety management system. Before a commercial vehicle could operate on the road, its owners must obtain an operator's licence or a road safety management certificate. In order to obtain such licence or certificate the operator has to convince the certifying authority that they have enough resources including necessary expertise to safely operate the vehicle. Their submission must include:
The name and address of the company;
Aim and objectives of the company;
Compliance of national requirements; Additional company requirements;
Colour scheme of vehicles (acceptable to authority and no confusion with other companies);
The name of the officer responsible for safe operation and compliance of requirements;
The name of the officer individually responsible for operation of each vehicle;
Round the clock duty officer system in the office;
Constant or immediate communication with individual vehicle;
Recruitment policy – driver, assistant and responsible officer in the office;
Uniform of staff – (acceptable to authority and no confusion with other companies);
Staff both on vehicles and in office must be clean and well-dressed;
Additional company training system and procedures – driving, tele-communication, medical first-aid and fire-fighting;
Additional medical test required by the company;
Additional vehicle test required by the company – (every week or month);
Mandatory servicing requirements;
System of drug test and records thereof;
Record of hours worked etc.
Procedures for taking fuel; procedures for embarking and disembarking of passengers;
Procedures to deal with passenger complaints;
Mandatory insurance to cover liability for death, injury and damage;
System of internal audit;
Many other matters considered essential by experts;
The above stated points are mentioned for developing a road transport safety operation system. It will be for the administration to evaluate management system submitted by companies and approve those found to meet the requirements. The companies and the vehicles operated by them must be audited once every year. If necessary the authority can operate inspection offices at divisional or district headquarters.
While a new management system will be introduced, present statutory requirements must be reviewed for improvement. It is time to introduce minimum educational requirements for drivers. It must be set at a level higher than SSC. Driving test must include a written test before the candidate can take the practical test.
Death on the roads in Bangladesh is increasing at an alarming rate. A responsible government cannot sit tight and remain silent. Whichever party wins the election and comes to power will have to deal with it. A big radical and revolutionary change is necessary. Vested interests will oppose our good efforts but we must act in the greater interest of the nation. Death of innocent people on the roads of Bangladesh cannot be accepted. It has to be stopped and stopped without delay.
London, 13-December-2018                                                               <fazlu.chowdhury@btinternet.com>