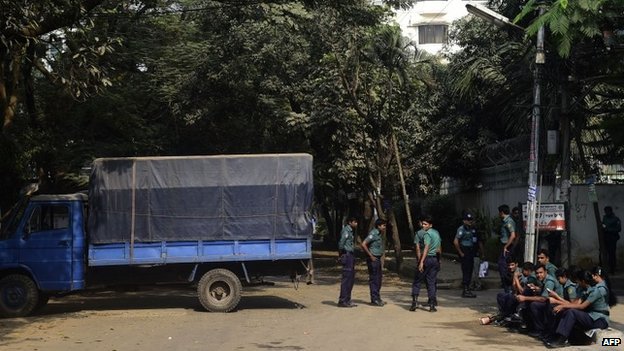 Security forces in Bangladesh have stopped opposition leader Khaleda Zia from leaving her party offices and banned all protests in the capital.
Police said the ban, which began in Dhaka at 17:00 local time (11:00 GMT) on Sunday, was to prevent violence.
Both Ms Zia's party and Prime Minister Sheikh Hasina's party had planned to hold rival demonstrations on Monday.
Bangladesh has long been dominated by Ms Hasina's rivalry with Ms Zia, who led the country from 1996 to 2001.
Monday is the first anniversary of an election that was boycotted by Ms Zia's Bangladesh Nationalist Party (BNP), who said it would be rigged.
Ms Zia was due to lead a mass BNP demonstration against the government in Dhaka but was prevented from leaving her offices on Saturday evening.
"She has been confined in her office. Police have cordoned off the area and barricaded [the] road. She wanted to see a sick party colleague around midnight, but they did not let her out," an aide told the AFP news agency.
'Enhanced security'
Police were reported to have locked the doors of the opposition headquarters, with Ms Zia forced to spend the night in her office.
There were protests nearby, with a bus being set alight close to the offices, and local TV said police had detained several people.
Police Inspector Firoz Kabir denied that Ms Zia was being forcibly detained, telling reporters: "We've not detained her, only her security has been enhanced. She is not leaving her office."
On Sunday, there was said to be a huge security presence at the BNP headquarters and police trucks were pictured blocking the streets.
The move comes after Ms Zia demanded new elections in the country last week and called on Ms Hasina to release political prisoners.
Dozens of BNP workers have disappeared since last year's election, with human rights groups blaming the government – although it denies this.
Source: BBC