India could have helped by counselling Hasina to take less reckless positions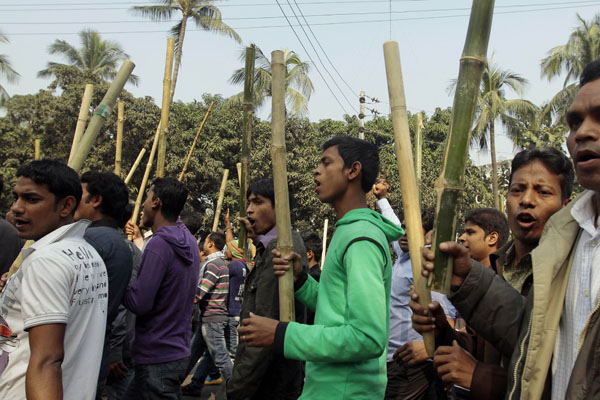 Bangladesh appears headed for more volatility in the post-election period and New Delhi's relations with a government that comes to power through a problematic process will only get more complicated, says Indian influential daily The Hindu in its editorial published on Wednesday.
There seems little chance of any understanding between Bangladesh's two main political forces (AL-BNP) emerging ahead of the scheduled January 5 elections, the editorial, 'Uncertainty in Bangladesh', says.
.
From the point of view of India's foreign policy, and more particularly national security objectives, ties have never been better than in the last five years.
Prime Minister Hasina cracked down on Islamist extremism, and on safe havens for militants from the northeastern States, reads the editorial.
"Yet, this very equation has set off an incredible amount of anti-India feeling within Bangladesh, especially as New Delhi was seen as not reciprocating Dhaka's "concessions" in equal measure — the non-implementation of the Teesta Accord is one sore point. India could have helped at least by counselling Prime Minister Hasina to take less reckless positions against her opponents, but it is too late for that now."
It also mentioned that at the heart of the confrontation is the election itself as the BNP, along with its allies, is boycotting the election because it wants a neutral caretaker government to oversee the process.
It said Khaleda Zia is virtually under house arrest and another political figure, the former military ruler HM Ershad, who heads the Jatiyo Party, the second largest in the ruling coalition, was taken to a military hospital by police commandos after he announced that he too was boycotting the polls.
"As a result, the Awami League is the only big party that remains in the elections, the Jamat-e-Islami having been banned in 2013," says the editorial.
The ruling party is certain to win at least half the 300 seats that are going uncontested but in such a moth-eaten election, a victory will have nowhere near the kind of legitimacy that it enjoyed when it won in 2008.
Meanwhile, Spokesperson of Indian Ministry of External Affairs Syed Akbaruddin said India does not have any intention to interfere in the internal affairs of Bangladesh.
"But as a friendly neighbour and a well wisher we do hope that the people of Bangladesh and their leaders can arrive at a solution and at outcomes which enable the people there to realise their aspirations," he told reporters in a regular media briefing in New Delhi on Tuesday.
He came up with the feedback when his comment was sought on the legitimacy of January 5 elections.
"Effectively what we desire for the people of Bangladesh is their wellbeing. We would wish them to overcome their differences, to be able to resolve their differences in a manner which is peaceful, which is done through dialogue and through discussion. And the outcome should be acceptable to all the people of Bangladesh," said the Spokesperson.
He also said India and Bangladesh, the destinies of two countries are intertwined. "Therefore, we have an interest in the wellbeing of Bangladesh as they have an interest in our wellbeing because we have such a long border, there is so much of movement, people-to-people, activity, and we have a common cultural heritage."
Source: UNBConnect