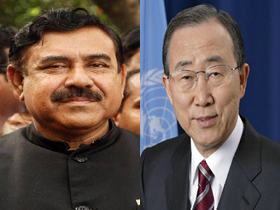 Apparently expressing displeasure over UN chief's fresh call for political dialogue, Shipping Minister Shajahan Khan on Sunday wanted to know why they (UN) did not protest the killings and destruction carried out by BNP-Jamaat before the January-5 elections.
"I don't want to make any comment on such a big person. Having immense respect for him, I just want to say why didn't you protest the killings, destructions and arson attacks? You didn't stop Begum Zia and Jamaat from the destructions. Even you didn't condemn those incidents," he said drawing the attention of UN Secretary General Ban Ki-moon.
The minister came up with the remarks while taking part in discussion in the House on the proposed budget.
UN Secretary General Ban Ki-moon emphasised the importance of engaging the 'extra-parliamentary' opposition and encouraged progress in social and political reconciliation in Bangladesh.
He made the call during his meeting with President Abdul Hamid held at the UN headquarters on Thursday.
The Secretary General expressed his regret at the failure of political parties to reach an agreement that would have allowed for inclusive elections in January this year.
Shajahan Khan said BNP-Jamaat is now crying at home and abroad being stuck in a trap following their election boycott, and lobbying for dialogue.
Criticising BNP spokesperson Mirza Fakhrul Islam Alamgir's remarks on the President, Shajahan Khan said Mirza Fakhrul does not know who the betrayer is. "Ziaur Rahman is the betrayer. Ziaur Rahman is a killer."
Earlier on Saturday, Mirza Fakhrul alleged that President Abdul Hamid betrayed the nation through his remarks about the January-5 polls in his recent meeting with UN secretary general Ban Ki-moon.
Criticising Khaleda Zia for her role in pre-election violence, he said, "Khaleda is a monster in the guise of human being."
On dialogue with BNP, he said, "Khaleda will have to be more decent in terms of behaviour if she wants dialogue."
Source: UNBConnect