Sunday's game is the climax of a World Cup that is being regarded as a huge success in Brazil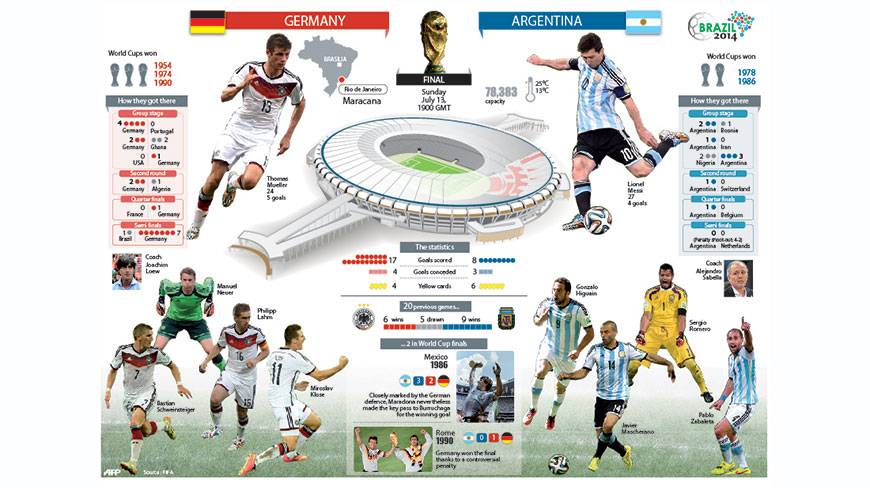 After a month of thrilling, nail-biting, tension-filled football, Germany and Argentina will contest the 2014 FIFA World Cup on Sunday.
The final game will kick-off at Rio's Maracana at 1am (Bangladesh Time).
It is expected that more than a billion audiences will watch the match from around the world, reports BBC.
This will not be the first time these two countries meet in a World Cup final. In fact, it will be their third go-round.
Germany (then West Germany) and Argentina met in the final of two consecutive World Cups in 1986 and 1990.
Each team took away the trophy once, with Argentina winning in 1986 and Germany lifting the trophy in 1990.
Argentina will be making their fifth appearance in a World Cup Final.
If Argentina triumphs, it would end a 28-year wait for World Cup glory since they beat West Germany in 1986 and will be the third World Cup win for the country.
On the other hand, Germany will be making their eighth appearance in the World Cup final, most of any nation.
Germany would be the first European team to win the tournament in South America if they take the title for the first time since 1990 and will mark as the country's fourth win of the World Cup.
Rio has taken the "largest security operation in the city's history," with more than 25,000 people involved, including local agents, military police, civil police, firefighters, the armed forces and intelligence agents.
Sunday's game is the climax of a World Cup that is being regarded as a huge success in Brazil.
According to local sources, 692,000 tourists from 203 countries have entered Brazil during the month in which the World Cup has been staged.
If the final features two goals, this will be the highest-scoring World Cup, beating the 171 goals in 1998.
German Chancellor Angela Merkel and President Joachim Gauck will be in Brazil.
Argentine President Cristina Fernandez de Kirchner is not expected to attend the game as she has had throat trouble.
The match will be refereed by Italian Nicola Rizzoli.
Source: Dhaka Tribune