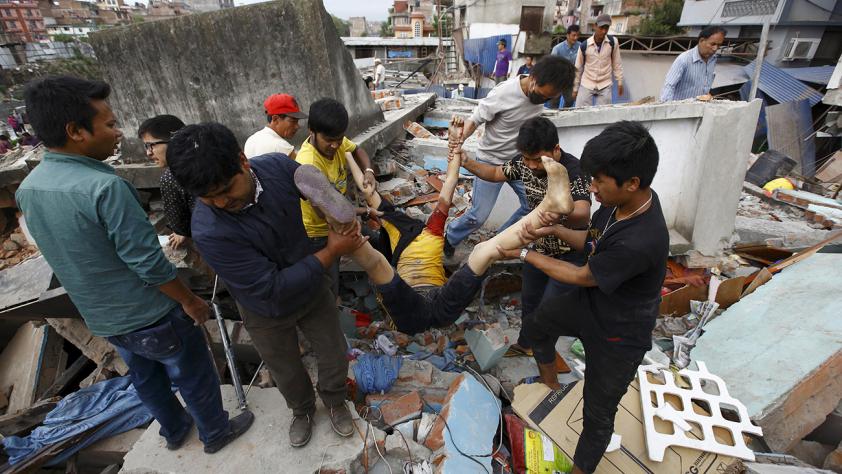 Yet again, another set of mild tremors has been felt in Dhaka and its surrounding areas – the centre had been Nepal but the reverberations were felt across the region.
It is panic and fear, that's engulfed us in Bangladesh now. While Nepal is yet to recover from Mother Nature's curse it's the old question that keeps coming back every now and then – 'are we sufficiently prepared to deal with an earthquake?'
Had the epicentre of the quake been somewhere in the north-eastern region of India instead of Nepal, Bangladesh could well be one of the badly hit nations as the magnitude could have been far greater.
As people in many places of the country panicked and rushed out of their homes and offices, fearing the worst, an earthquake is no longer a vague possibility.
A few died while others got injured in panic-stricken rush and stampedes. Though we could effort to treat the back to back tremors as well timed opportunities for drills, the reality is Dhaka and other parts of Bangladesh may also face an emergency some time soon.
I am unaware of how seriously are our concerned authorities are taking these tremors, but know for sure that an earthquake crossing 7 in the Richter scale will not only shake our cities but turn them into unmovable pile of rubble.
There is enough to fear for and when it comes to the question of rescue efforts we are still poorly equipped. It's not before the striking of a cruel disaster that we will realise 'what should and could have been done' and it's here where the fear lies.
Barely two years ago when Rana plaza , for different reasons , came crashing down, hundreds of our labourers were victims of not only of premature death but unanticipated amputations; offbeat and daring rescue efforts had to be launched since existing techniques and equipments fell short .
Moreover, our response and handling of the disaster shocked many in and outside the country.
So, hypothetically speaking what would happen if a quake hits Dhaka? Take this writer's location for instance, within a radius of 1 kilometre there are more than 50 tall skyscrapers and if they get a direct hit from an earthquake of 7 plus magnitude, thousands will get entrapped in semi-damaged structures, some buildings may lean or tilt on various sides while this writer's three-storied house, sandwiched between two 20 plus storied structures, would simply vanish into oblivion.
No matter how much pride our developers take in withholding Richter scale numerical, the fact here is simple: a mammoth rescue mission will be required which, in all probability, is not there.
After the hit in Nepal we came to learn how a mere six storey building tilted in old Dhaka. It couldn't even take the slight ripple impact.
By sheer luck or divine providence, whatever you call it, Dhaka may not have experienced a severe earthquake but the chances remain. The last major quake that hit Dhaka was over a century ago in 1897 when some 15 persons are reported to have died in a city of 90,000 though reality is a lot different now.
Am I being a pessimist and an alarmist? Yes, but not without logic. As far as large scale rescue efforts are involved, we are still far-off from handling big scale disasters.
More alarmingly, as the frequencies of tremors keep rising within our neighbourhood, the height as well as number of concrete skyscrapers keeps on increasing.
While penning this piece, I clearly remember a seminar held, less than a year ago, where experts had warned of the possibility of a massive earthquake. The seminar had revealed the shocking fact that if an earthquake was to occur in Dhaka now, over 83 percent of the total buildings would be damaged.
Moreover, the number of victims is likely to be over a quarter a million – more than two hundred times than that of Nepal.
Given the characteristics of our soil condition and increased number of filled up wetlands, an earthquake will be more calamitous in nature. The fact that we are still complacent is because it isn't hitting us hard as yet but the likelihood seems to be nearing fast.
To end, time is running out fast and remaining complacent won't help us once there is disaster. It's always better to prepare beforehand; let's take Nepal as a warning sign to act now.
Source: Prothom Alo