A nationwide strike called by an alliance of Bangladesh's opposition political parties has turned fatal. Tensions are rising ahead of the first anniversary of controversial elections.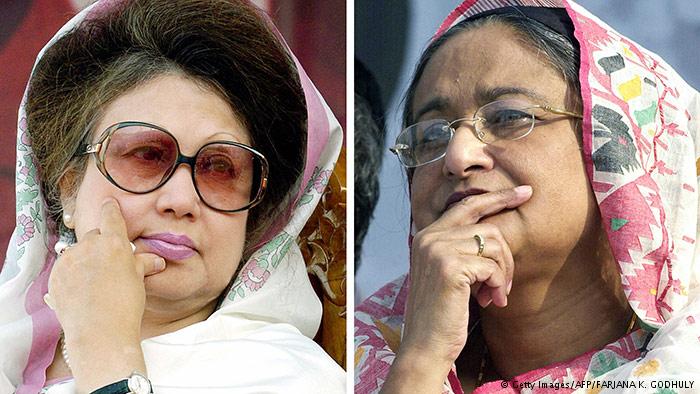 A female school teacher was killed Monday after she was hit on the head by a rock thrown by protestors in the coastal district of Noakhali, police said.
"She was declared dead after being brought to a hospital," local police chief Noakhali Ali told news agency AFP.
Some of the demonstrations involved stone-throwing and several people were injured in the capital, Dhaka, as police fired shotguns and tear gas to disperse opposition protestors. A young man was reportedly injured after being hit by shotgun pellets.
"Three policemen were also injured as the protestors attacked us with cocktail bombs," police inspector Shahab Uddin told AFP.
The streets in Dhaka were largely deserted during the Monday's strike, with many schools and offices closed.
Tension ahead of election anniversary
The demonstrations were called by the main opposition Bangladesh Nationalist Party (BNP), led by Khaleda Zia (pictured left) and several other parties, to protest a security forces crackdown on their leaders and supporters.
According to BNP spokesman Rizvi Ahmed, at least 400 party officials and activists had been arrested since Wednesday in the lead-up to the first anniversary of January 5 elections, which the party boycotted.
The BNP had demanded that the government, led by the Awami League, hand power to a caretaker administration before the vote took place. The boycott of the polls by the opposition meant that in the majority of parliamentary seats there was no contest, allowing the Awami League, led by Prime Minister Sheikh Hasina, (pictured right) to retain power for a second term in a landslide victory.
se/rg (AFP, dpa)