Electricity cut off, communication systems jammed; hospitals crowded with injured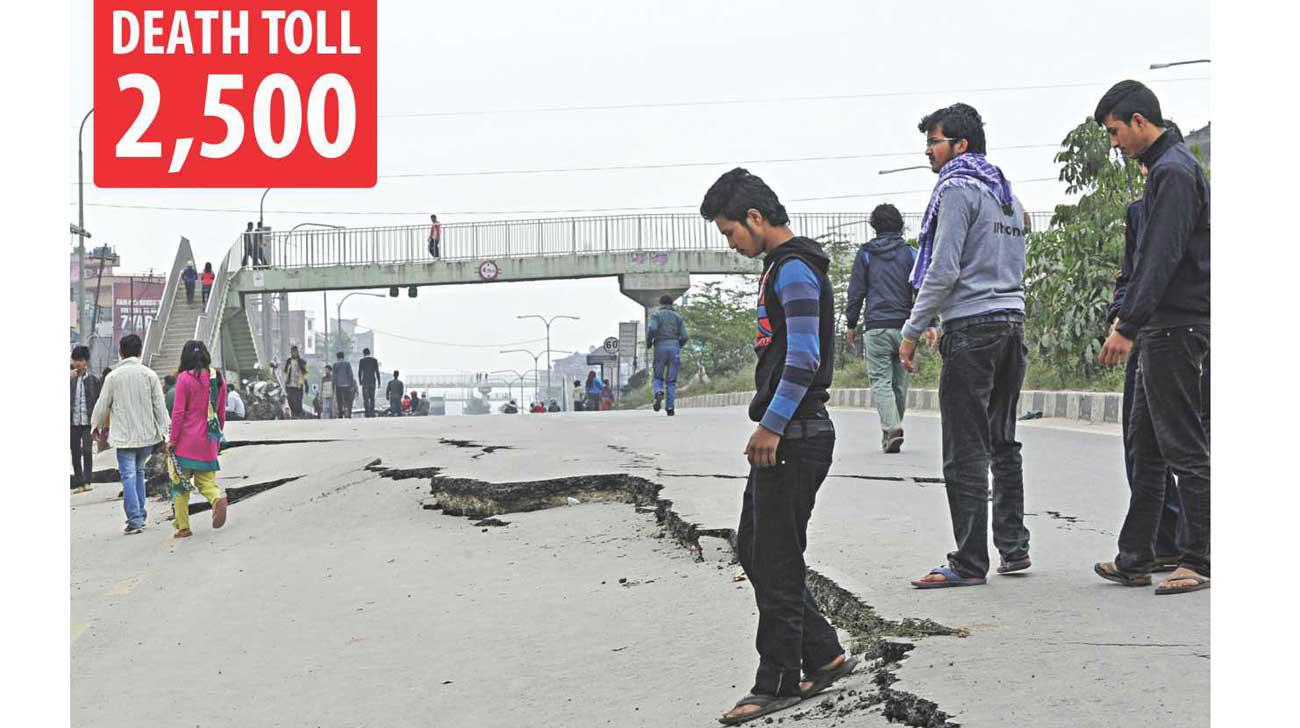 Powerful aftershocks rocked Nepal yesterday, panicking survivors of a quake that killed more than 2,500 and triggering new avalanches at Everest base camp, as mass cremations were held in the devastated capital Kathmandu.
Terrified residents, many forced to camp out in the capital after Saturday's 7.8-magnitude quake reduced buildings to rubble, were jolted by a 6.7-magnitude aftershock that compounded the worst disaster to hit the impoverished Himalayan nation in more than 80 years.
At overstretched hospitals, where medics were also treating patients in hastily erected tents, staff were forced to flee buildings for fear of further collapses.
"Electricity has been cut off, communication systems are congested and hospitals are crowded and are running out of room for storing dead bodies," Oxfam Australia chief executive Helen Szoke told AFP.
Climbers reported that the aftershock caused more avalanches at Mount Everest, just after helicopters airlifted to safety those injured when a wall of snow hit base camp on Saturday, killing at least 18 people.
The deadliest disaster in Everest's history comes almost exactly a year after an avalanche killed 16 sherpa guides, forcing the season to be cancelled, and as around 800 mountaineers were gathered at the start of the new season.
AFP's Nepal bureau chief Ammu Kannampilly, who was on assignment at base camp, reported that six helicopters had managed to reach the mountain on Sunday after the weather improved.
A stunning image captured by the agency's South Asia photo chief Roberto Schmidt showed a massive cloud of snow and debris cascading onto base camp, burying scores of climbers and flattening tents.
"People being stretchered out as choppers land — half a dozen this morning," Kannampilly said in a text message. "Weather clear, some snowfall."
Offers of help poured in from around the world, with dozens of nations or aid groups volunteering everything from sniffer dogs to an inflatable hospital. India dispatched 13 military aircraft to Nepal loaded with tonnes of food, blankets and other aid.
The Kathmandu-based National Emergency Operation Centre put the toll in Nepal at 2,430 while around 6,000 more people had been injured.
Officials in India said the toll there now stood at 67, while Chinese state media said 18 people had been killed in the Tibet region.
"We have deployed all our resources for search and rescues," police spokesman Kamal Singh Bam told AFP. "Helicopters have been sent to remote areas. We are sifting through the rubble where buildings have collapsed to see if we can find anyone."
The fresh aftershocks forced Kathmandu airport to close for around an hour as air traffic controllers evacuated their centre. Several flights had to be diverted in mid-air.
The country's cellphone network was working only sporadically, while large parts of the capital were without electricity.
AFP correspondents in Kathmandu reported that tremors were felt throughout the day, including one strong aftershock at dawn before the 6.7-magnitude follow-up quake that struck in the afternoon.
The historic nine-storey Dharahara tower, a major tourist attraction, was among the buildings brought down in Kathmandu Saturday.
Police said around 150 people were thought to have been in the tower at the time of the disaster, based on ticket sales.
"At least 30 dead bodies have been pulled out. We don't have a number on the rescued but over 20 injured were helped out," Bishwa Raj Pokharel, a local police official, told AFP.
"We haven't finished our work there, rescue work is still continuing. Right now, we are not in a position to estimate how many might be trapped."
As rescuers sifted through the huge mounds of rubble in the capital, some using bare hands, hospitals were overwhelmed with victims who suffered multiple fractures and trauma. Morgues were overflowing with bodies.
At the city's oldest Bir Hospital, an AFP correspondent saw grieving relatives trying to swat away flies from around a dozen bodies placed on the floor of the morgue after storage space ran out.
The first mass cremations were held at the Pashupatinath district of Kathmandu, with the smoke from the funeral pyres wafting across a swathe of the city.
Samir Acharya, a doctor at Nepal's Annapurna Neurological Hospital, said medics were working out of a tent set up in a parking lot to cope with the injured, while some patients were too scared to stay in the building.
Experienced mountaineers said panic erupted on Saturday at Everest base camp, which has been severely damaged, while one described the avalanche as "huge".
"We have airlifted 52 from the base camp so far, 35 have been brought to Kathmandu," said Tulsi Gautam of Nepal's tourism department which issues permits to climb the world's highest mountain.
"Those who are able are walking down. Others are being airlifted."
George Foulsham, a Singapore-based marine biologist, described the moment disaster struck.
"I was outside, saw a white 50-storey building of white come at me. I ran and it just flattened me," he told AFP.
"I tried to get up and it flattened me again. I couldn't breathe, I thought I was dead. When I finally stood up, I couldn't believe it passed me over and I was almost untouched.
"I saved for years to climb Everest. It feels like the mountain is saying it's not meant to be climbed for now."
Nepal and the rest of the Himalayas are particularly prone to earthquakes because of the collision of the Indian and Eurasia plates.
An 6.8 magnitude quake hit eastern Nepal in August 1988 killing 721 people, and a magnitude 8.1 quake killed 10,700 people in Nepal and India in 1934.
Source: The Daily Star