by Julian Francis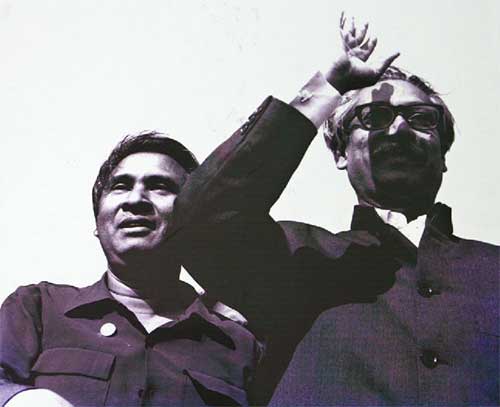 A few days ago I visited a photo exhibition at Gallery 21, Dhanmondi which is full of photos of different aspects and periods of the life of Tajuddin Ahmed, Bangladesh's Prime Minister in 1971. Seeing all these photos brought back very clear memories of mine of those days and my meetings in Kolkata with Tajuddin Ahmed.
In 1971, I was responsible for administering OXFAM's relief programme for about 600,000 of the ten million refugees who had fled from Bangladesh to India and were staying in many of the over 900 refugee camps in the border areas of India and Bangladesh. On three occasions I met with Tajuddin Ahmed at his office at 8, Theatre Road. At that time, my temporary office was in a hotel room on the corner of Theatre Road and Little Russell Street, which was very near to the office of the Mujibnagar Government. Also, nearby, in Auckland Square, was the flat where I was residing. When fixing up my first meeting, Tajuddin Ahmed personally wrote a note in beautiful English script suggesting that as I probably walk home to Auckland Square late at night, I should feel free to drop in on my way home at any time!
In the overall scheme of things, the subjects I wanted to discuss with Tajuddin Ahmed and his colleagues were not very important, but each time I met him, he made me feel extremely important. One time I discussed with him the idea of supplying all refugee camps with harmonium and tabla and, on another occasion, how to distribute relief supplies inside Bangladesh in border areas that were no longer controlled by the Pakistan Army. On one occasion, I also met A.H.M. Kamruzzaman.
After the return to Bangladesh of Sheikh Mujibur Rahman on January 10th 1972, I made plans to bring one of OXFAM's landrovers, laden with urgently needed medical supplies, to Dhaka from Calcutta. On January 20th, I set off from Calcutta. We traveled very slowly as there were so many people walking back from West Bengal to their homes in Bangladesh. We stayed overnight at a Catholic Mission Hospital in Jessore where, earlier, an Italian Father had been killed by Pakistani army personnel as a punishment for giving humanitarian assistance to members of the Mukti Bahini. The next day we continued on our slow way to Dhaka and with the very long delay queuing for the ferry we did not reach Dhaka until about midnight. I remember driving past the old airport with not a person or vehicle in sight. Suddenly, from nowhere, army personnel and police surrounded our vehicle. We had not known that there was a night-time curfew. After explaining who we were, we were given a friendly escort to the Purbani Hotel.
I was advised by British Government and other aid officials to pay a courtesy call on Sheikh Mujib. Fortunately, I was able to link up with Tajuddin Ahmed and A.H.M. Kamruzzaman and they fixed up a meeting for me to call on Bangabandhu and, in advance, they briefed him very well about the work of OXFAM. My meeting with Bangabandhu is one I will never forget. I told him that I needed his advice about what a small organization like OXFAM might be able to do to assist in the huge rehabilitation and development needs of Bangladesh. He took his pipe out of his mouth and pointed the stem of the pipe at me. "How did you come here, young man?", he asked me in a booming voice. I told him that I had driven overland from Kolkata. "In that case", he told me, "You have seen more of my country than I have, as I was a prisoner for over 9 months, so please tell me what you think my country needs. What have you seen?"
I told Bangabandhu that I had seen many villages that had been burnt down, many bridges and culverts blown up and many ferries and launches, large and small, sunk in the rivers. I told him that, on behalf of OXFAM, I had already ordered, in India,
£ 250,000 worth of C.I. sheets for a big house rebuilding programme and these would arrive from India by early March. I added that I thought that bridge building and replacement and repairs of ferries were more suited to bilateral and multilateral aid. "No", Banagabandhu said, "Ferries are and will be the lifelines for my people. Please discuss with officials of the Bangladesh Inland Waterways Authority and see what OXFAM can do."
Before I left him, Bangabandhu asked me about my experiences working with the people of Bangladesh in the refugee camps. As I spoke, emotion got the better of me and tears welled up in my eyes. He put an arm around me to comfort me and said, "Go young man, be strong, and thank you for coming to see me and for helping Bangladesh."
As a result of the meeting with Bangabandhu, OXFAM was able to, eventually, procure three truck-carrying ferries and to assist the repair of many others. I remember that the Bangladesh Inland Waterways Authority wanted, understandably, to name the ferries after Liberation War martyrs but after the experience of getting to know the flora and fauna of Bangladesh and how they are part of the country's poetry and music, we suggested that the vessels be named after flowers. And so, Kamini, Kosturi and Korobi, were so named and they, continue to ply across the Padma River at Mawa to this day, more than 40 years later. The recent horrific tragedy at Mawa is another reminder for me of those words of Bangabandhu, spoken 42 years ago, "Ferries are and will be the lifelines for my people."
During my short visit to Bangladesh more than 40 years ago, it was obvious that the two greatest needs were food and the restoration of the transport system with which to move the food around the country. OXFAM's Overseas Aid Director at that time, Ken Bennett, wrote in a report, a short while after my January 1972 visit, "I doubt if it would be an exaggeration to say that on the extent to which a solution to the problem of food imports and the restoration of communications can be quickly found may well depend the future of Bangladesh as a State." It is to Bangladesh's immense credit that it has survived and prospered and is now self sufficient in the production of basic food grains which can be moved about the country efficiently.
In 1975, still with OXFAM, I was based in New Delhi and on August 15th, together with my family, I was watching India's Independence Day celebrations on the television when the programme was interrupted with the news of the assassination of Bangabandhu and his family members. Even 39 years later, I still feel quite emotional when I remember that day in 1975. Soon after, I heard of the arrest, also in August 1975, and eventual murder of Tajuddin Ahmed and A.H.M. Kamruzzaman. The Government has declared August as the Month of Mourning. It is very easy to understand why.
——————————–
Julian Francis has been associated with relief and development activities of Bangladesh since the War of Liberation. In 2012, the Government of Bangladesh awarded him the "Friends of Liberation War Honour" in recognition of his work among the Bangladesh refugees in India in 1971.
Source: bdnews24