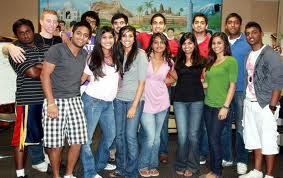 Seventy-two per cent Americans view India favourably – a four per cent increase from last year – while North Korea has become the country least liked in the US, according to an annual Gallup poll.
The poll also found that only 17 per cent Americans view Pakistan favourably, while China fares better with 43 per cent Americans having a favourable opinion of the country, reports PTI.
The Gallup's 2014 World Affairs poll found that 72 per cent Americans had a favourable opinion of India compared to 68 per cent in 2013.
This pushes India's favourability ratings up by four per cent compared to last year.
The poll comes after the Khobragade episode that soured ties between India and the US.
Indian diplomat Devyani Khobragade was arrested on December 12 last year in New York on charges of making false declarations in a visa application for her maid.
The diplomat was strip searched and held with criminals, triggering a row between the two sides with India retaliating by downgrading privileges of certain category of US diplomats.
The poll ranked North Korea as the least favourable of 22 countries included in the survey, with only 11 per cent having a favourable opinion of the nation.
The results were based on telephone interviews conducted between February 6 to 9, with a random sample of 1,023 adults, aged 18 and older, living in all 50 US states and the District of Columbia.
North Korea took the bottom spot from Iran, whose rating rose from 9 per cent last year to 12 per cent this year.
North Korea's favourability has not exceeded 15 per cent since 2002, consistently making it one of the lowest rated. But this is the first time since 2004 that it has been alone in last place.
North Korea now immediately trails Afghanistan (14 per cent), Syria (13 per cent), and Iran (12 per cent).
Americans have much more positive attitudes toward South Korea, with 64 per cent viewing the country favourably.
Canada remained the most popular foreign country for Americans, with 93 per cent viewing it favourably, a two per cent jump from last year.
Other countries favoured most by Americans included Great Britain (90 per cent), Germany (81 per cent), Japan (80 per cent) and France (78 per cent).
Source: UNBConnect