A 7-year old boy and his sister, only 4 years old, have been hacked to death in their house in capital Dhaka's North Basabo, police say.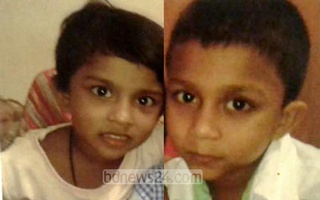 Police recovered the bodies of the siblings from their rooftop apartment at House No.  157/2, next to a local community centre in the area, around 10pm on Friday.
They went to the seven-storey house responding to calls from locals, Sabujbagh Police Station OC Abdul Kuddus said.
The sharp weapon used in the hacking was found in the House, DMP Additional Commissioner Sheikh Maruf Hasan told reporters.
He said the mother, Tanzin Rahman, has been 'missing' since the incident.
"It will be clear in investigation whether the mother killed them or somebody else," he added.
The victims were identified as Mashrafe Bin Mahbub, a student of a local madrasa, and his sister Humayra Binte Mahbub.Their father Mahbubur Rahman's sister Laila Noor said her brother works as a computer operator in Dhaka WASA.
"Bhabi (Tanzin) has been mentally ill for a long time. He was undergoing treatment," she said.
A person who knew the family said Mahbubur found the bodies lying in a pool of blood after returning home from a mosque where he had gone to offer prayers.
source: bdnews24