Nasimul Hasan , Gopa Biswas Caesar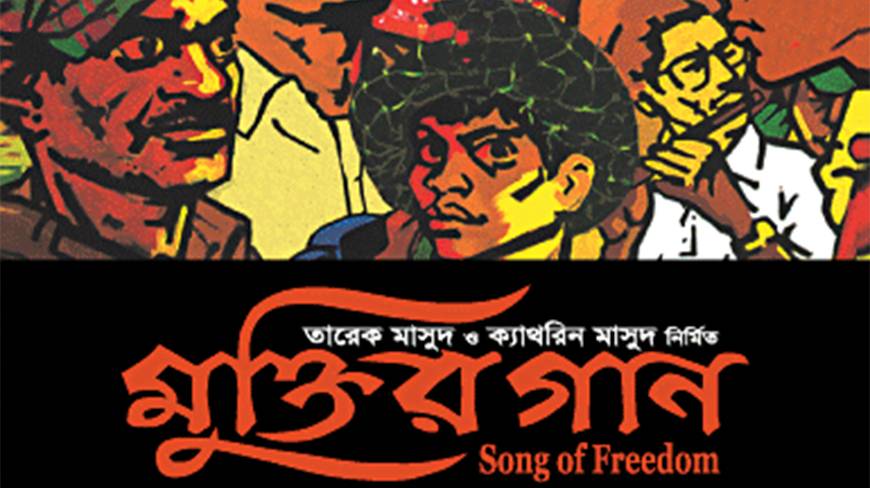 The number of visual texts ie films made about the Liberation War of 1971 is too great to avoid ending up with typical treatments in most cases. Even then, there are films which stand out of the mellowed mass. Let us have a quick look at them.
Jibon Theke Neya (1970)
Your eyebrows might hurt from hitting the ceiling, so we better give you a sound explanation behind considering this 1970 Zahir Raihan film as one on 1971. This is the masterpiece which gave us a hint that we were ready to fight for our freedom and sovereignty. This visionary film presumed that we ought to have a go for our liberation. Though many think there is not much visual magic that critics look for in a masterpiece, it had a vision which was larger than life. And Zahir Raihan did not even opt for the visual magic either. He emphasised on the story and the message it bore. From that point of view, it was more about spreading the vision of a struggle viscerally and became the most humanitarian and positive one.
Stop Genocide (July, 1971)
Again, Zahir Raihan. It turned out into a whole-hearted documentary film, and often considered as one of the best of its kind. But Raihan's sole intention was to reach the outer world and to shake their conscience to make them act. It is an instance of 'guerrilla' film-making that has indicted the heinous brutality of the Pakistani army that had already killed millions by the date of its release. The amount of risk that was taken by its maker is remarkable even now. And the treatments of visuals were also fascinating along with the power of freeze-frames. It said STOP to every act against humanity in perfectly cinematic language.
Dhire Bohe Meghna (1973)
This was the debut feature film by another great film-maker Alamgir Kabir and the primary planning was done by Zahir Raihan. There were many films on 1971 in that post-war phase, out of which this one stood out because of its narrative style.
Short films like Hooliya (1984), Shuchona (1988)
These short films are worth mentioning because they indicate how the war can come into visual stories with their typicality chopped off. The late 80s bore limitless hope to the Bangladeshi filmscape, as these two young Turks started off. While Mokammel showed how a piece of poetry (by Nirmalendu Goon) can be made into a film and led a career dominated by themes from 1971. Islam was also at close quarters which brought us his latest Anil Bagchir Ekdin.
Muktir Gaan (1995)
This is probably the most significant film of the 90s for us. An entire feature film made out of Lear Levin's 1971 footages tells you a story like a fiction film would do, but is out-and-out a documentary as well. The passion and devotion Tareque Masud and Catherine Masud have shown in the making of this film will keep inspiring generations of filmmakers for sure. This one film singlehandedly documented everything a nation goes through as they wait and fight for freedom — the role the radical musicians played at that time, the refugees they were performing for, the politics, the humiliation of humanity of that time and so on. Muktir Kotha (1999) played a similar role as well.
Aguner Poroshmoni (1995)
No other film has offered a better depiction of the 1971 days of the middle class families of that time. It is slightly melodramatic yet stands out for Humayun Ahmed's powerful story-telling techniques.
Ekattorer Jishu (1995)
This is a must watch film if one wants to feel the intensity of 1971. Nasiruddin Yusuf adopted this film from a 1986 book by Shahriar Kabir. The few technical flaws are heavily out-witted by its narrative and the powerful performances by the actors.
Matir Moina (2002)
Masuds' Muktir Gaan had raised the bar for the documentary makers and Matir Moina did the same thing for fiction filmmakers. The tales of 1971, the sound, set designs, costumes, narrative style, music and songs, the 'Bangaliana'— everything about the film is perfect.
Spartacus 71 (2008)
This is a telefilm by Mostofa Sarwar Farooki, which provides a different reading of the city dwellers during the liberation war of 1971. It gives a tragic instance of how many had tried to survive those days and have failed.
Meghmallar (2014)
Meghmallar is among the better ones of the recent lot, but many felt that more run-time was needed for the denouement. The protagonist's metamorphosis was too quick to be fully effective and undermined the overall impact of this otherwise well-made film. It's a different take on Akteruzzaman Elias' Raincoat, and the film itself evokes an appeal. With a backdrop of 1971, Zahidur Rahman Anjan has offered a glimpse at a mind's metamorphoses in the rebellious days.
Source: Dhaka Tribune