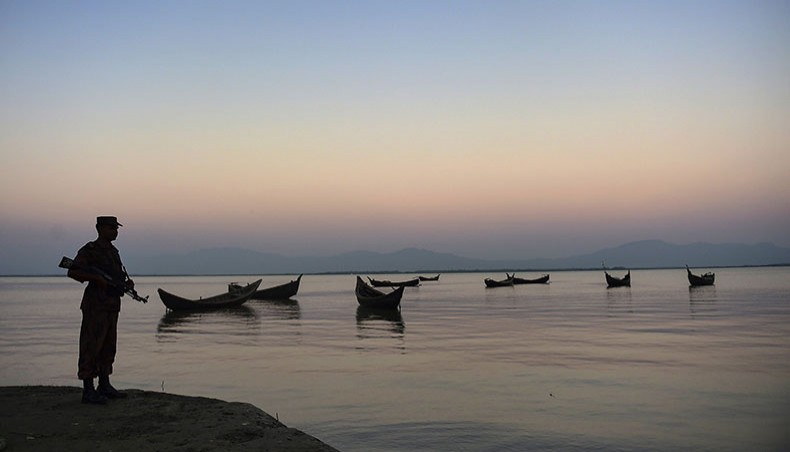 Cox's Bazar district administration on Wednesday sought directives from the government as about 10,000 persecuted Rohingyas already arrived at places of the district sneaking into Bangladesh fleeing military crackdown on the religious minority group in Rakhine state on Myanmar.
Neither any government agency nor any non-governmental organisations has yet launched any programme to provide assistances to the Rohingyas who were now suffering from severe shortage of food, warm clothes, shelters and medicine as many of them were staying in the open sky, said officials and local people.
'We are getting information from various sources that eight to ten thousand Rohingyas have arrived in the district in the past few weeks,' Cox's Bazar deputy commissioner Md Ali Hossain told New Age.
He said that they had already sought directives from the government about what steps they should take now to handle the situation.
'UNHCR cannot independently verify information on the new arrivals in Bangladesh due to lack of access. Based on reports by various humanitarian agencies, we estimate that there could be 10,000 new arrivals in recent weeks,' Vivian Tan, the designated regional spokesperson of UNHCR in Bangkok, told New Age.
She said that the situation was fast changing and the actual number could be much higher.
'We are ready to support the government to provide effective humanitarian assistance for these individuals in need of international protection in close coordination with the agencies of the UN Country Team as well as other humanitarian agencies on the ground,' Vivian Tan added.
United Nations High Commission for Refugees has urged Bangladesh government to allow safe shelter on its territory for those in need of immediate safety and essential assistance, according to a UNHCR official.
'We are concerned about the situation as these Rohingyas might spread to other areas if they continue to enter as there is no designated camps for them here,' the deputy commissioner said.
Rohingyas continued to enter Bangladesh through the land and river borders over about past two months as Myanmar troops escalated violence against the religious minority community since October 9 forcing them to leave their homeland, officials said.
Myanmar army launched the crackdown on Muslims in Rakhine state after 'miscreants' allegedly attacked several cops on border outposts in the first week of October.
In desperate attempts to protect their lives from Myanmar military crackdown on them in Rakhine state, many Rohingyas entered Bangladesh and were now staying in the open sky and under trees while some of them were sharing accommodations with others at unregistered camps, said affected people.
Rohingyas, particularly children and elderly people, were suffering from cold-related diseases as there was no medical support for them as yet, they said.
New Age correspondent in Cox's Bazar reported that local people were providing warm clothes to Rohingyas arriving at Ukhiya in the district as those entering Bangladesh through porous borders were suffering from shortage of food, shelter and medicine.
At least150 more Rohingya Muslims sneaked into the country on Wednesday.
Myanmar troops raided village Chalipron on the day, said one Amin Ullah over cell phone.
At least five Rohingyas including women and children were shot dead during the fresh drives that forced many people to leave their homesteads, he added.
Chairman of Raja Palang union of Ukhiya upazila Zahangir Kabir Chowdhury told New Age that hundreds of Rohingyas arrived at Kutupalang makeshift camp and in nearby areas in the past 45 days.
Some people were living inside camps with their relatives while some others were living under trees or sheds nearby the camp.
The newcomers said that the violent military crackdown continued with killing, raping women and girls, burning down houses and businesses of Rohingya community in Rakhine state.
'International Organisation for Migration has been working for unregistered Rohingyas at Kutupalang, Ledha and Baharchara for the past few years. But they do not provide any relief goods like food, clothes and shelters,' Zahangir added.
UNHCR country representative Shingi Kubo on Wednesday met the Cox's Bazar deputy commissioner to discuss the Rohingya influx.
Border Guard Bangladesh on Wednesday sent back five boats fully packed with Rohingya Muslims, mostly women and children, to their homeland.
Border guard battalion commanding officer Lieutenant Colonel Abu Jar Ali Jahid said that border guards pushed the Rohingya minority of Myanmar back while they were crossing the river Naf at Zimongkhali and Unciprong point of bordering upazila Teknaf.
Source: New Age