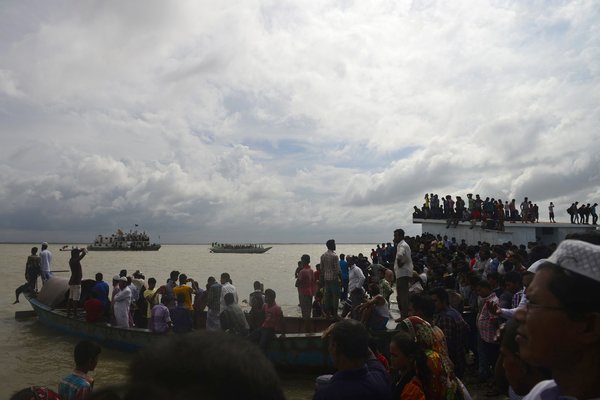 A ferry overloaded with more than 200 passengers sank while crossing a river in central Bangladesh on Monday morning, and despite rescue efforts by naval forces and fire brigades, at least half the passengers were missing and presumed dead, officials said.
The ferry, which was making the roughly two-hour journey to the Padma River port of Mawa, was hit by high waves and capsized in the strong current, Samsuddoha Khondaker, the chairman of the Bangladesh Inland Water Transport Authority, said in a telephone interview.
Thousands of family members and other villagers had gathered on the riverbank at the ferry's destination, some screaming and crying, as they waited for news of survivors.
Hamidur Rahman Siddique, an intelligence officer in the Munshiganj district, said that as many as 300 passengers might have been on board the ferry when it sank. According to the Bangladesh Department of Shipping, the 64-foot ferry was licensed to carry a maximum of 85 passengers at a time.
People gathered on Monday where an overloaded ferry capsized in the Padma river in Bangladesh. Credit Munir Uz Zaman/Agence France-Presse — Getty Image
Fakhrul Islam, the chief engineer of the department, said that the ferry's operating license had expired in April and that it was operating in violation of safety conditions, which forbade it from carrying more than the 85-passenger maximum. It was also sailing in spite of a warning of severe weather, he said.
"The ferry was operating illegally," he said.
The boat was only about 10 minutes from its destination when it capsized, said Mr. Siddique, the district intelligence officer.
Officials said the craft had sunk to the bottom of the river, around 80 feet below the surface, and that some passengers had managed to swim to shore.
An official with the Inland Water Transport Authority, Mohammad Hossain, said the disaster took place because the vessel was overloaded and continued operating in bad weather, attempting to cross the river at high tide.
Bangladesh's land mass is divided by a huge network of rivers, and ferries are used to transport heavy loads of cargo below decks crowded with passengers. Accidents are common, often leading to confusion because ferry operators do not keep passenger lists.
Around 50 people died in May when a ferry capsized in the same district, Munshiganj. More than 100 people were killed two years ago in Munshiganj when a ferry collided with a cargo ship. In 2009, two separate ferry accidents claimed more than 100 lives.
An official told Reuters that most of the passengers on the ferry that sank on Monday had been returning to the city after traveling to their home villages to celebrate the Muslim holiday of Eid al-Fitr, which marks the end of the fasting month of Ramadan.